ASML to Ride Decade-Long Sales Boom After Chip Supply Crunch
As the global chip shortage threatens deliveries of cars to smartphones, ASML Holding NV expects a decade of surging orders for its machines that make high-end semiconductors.
The Dutch company said growth in semiconductor markets and technological advances will drive demand for its products and services, predicting annual revenue growth of around 11% this decade. The revenue guidance for 2025 was also raised. 
The pandemic has left electronics and auto manufacturers lacking the vital electronic components, costing them billions of dollars in lost revenue. At the same time, ASML has cornered the market for the latest advanced extreme ultraviolet lithography equipment that makes faster, cheaper and more efficient chips. Its main rival in the most advanced machines is Japan's Nikon Corp.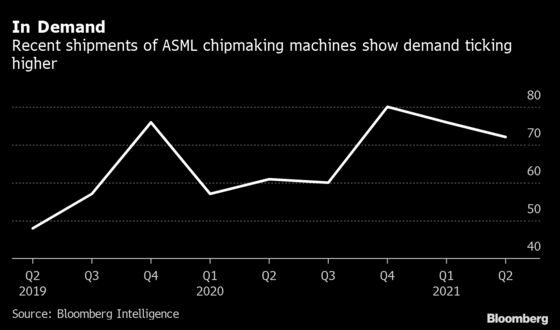 "Global megatrends in the electronics industry, supported by a highly profitable and fiercely innovative ecosystem, are expected to continue to fuel growth across the semiconductor market," ASML said in the statement.
ASML sees annual revenue in 2025 of 24 billion euros to 30 billion euros ($35 billion), with a gross margin of 54% to 56%, according to a statement on its investor day. It previously forecast sales of between 15 billion and 24 billion euros. 
Shares of ASML rose as much as 1.8% in Amsterdam, adding to a 67% rally this year. The stock initially retreated as much as 2.2%, with Citigroup calling its long-term outlook "underwhelming."
Customers include Samsung Electronics Co. and Taiwan Semiconductor Manufacturing Co., which have been investing heavily to keep up with rebounding demand as lockdowns ended.
Chipmakers have continued to sound an upbeat note about demand for the next few quarters. Advanced Micro Devices Inc. CEO Lisa Su said Tuesday that tight supply of the crucial electronic components will likely persist into the first half of 2022.
However, ASML has been prevented from shipping EUV systems to China, a key market, as the Dutch government -- under U.S. pressure -- hasn't approved its export application.  
European and U.S. officials are expected to discuss semiconductor-related issues in a meeting at Pittsburgh later on Wednesday. 
Stay Updated With
Tech News
On BloombergQuint