Arizona Utility Makes Biggest U.S. Bet Yet on Energy Storage
(Bloomberg) -- Arizona's Pinnacle West Capital Corp. is kicking off the most ambitious deployment of energy storage ever announced by a U.S. utility.
Pinnacle West's Arizona Public Service plans to add 850 megawatts of battery storage and at least 100 megawatts of new solar power by 2025, according to a statement Thursday. The company did not say how much initiative would cost.
The move comes as Arizona regulators have placed a temporary moratorium on building natural gas-fired plants and as falling energy-storage prices have compel utilities to use batteries to extend output from solar farms after sundown. Already, solar projects that incorporate storage are becoming cheaper to build than new gas-fired plants per megawatt-hour in parts of the U.S. Southwest.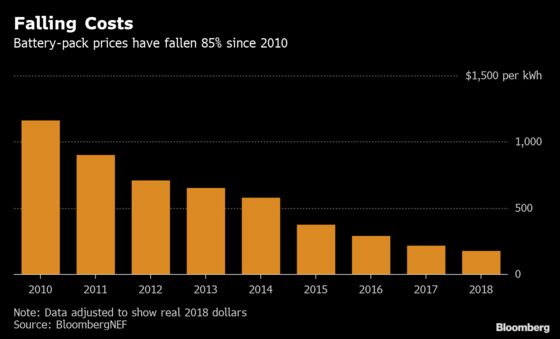 Pinnacle West currently has fewer than 10 megawatts of battery storage on its system. Yayoi Sekine, an analyst at BloombergNEF, said adding 850 megawatts is the "biggest planned deployment by a single utility."
PG&E Corp. has won approval to add about 570 megawatts of storage as part of California's goal to hit 1,300 megawatts by 2020. Hawaiian Electric Co. has said it will add storage to its networks to meet a state target to derive all of its power from clean sources by 2045.
Pinnacle West's storage initiative may help protect its Palo Verde nuclear plant, which can't economically ramp up and down to account ebbs and flows of solar, BNEF analyst Hugh Bromley said.
Last year, Pinnacle West spent millions of dollars to defeat a proposed ballot initiative that would have required the state to get half of its electricity from renewable energy by 2030. It contended that the measure, if approved, would force APS to shut down Palo Verde because renewables would have undercut the profits of the reactors.
"Arizona needs more flexible solar to work around its existing nuclear," Bromley said. "Nuclear plants are like cruise-liners. They aren't flexible. The rest of the fleet needs to maneuver around them."