Arabica Coffee Drops With Improving Outlook for Biggest Supplier
(Bloomberg) -- Arabica coffee futures tumbled Friday, paring this week's gain, on signs of an improved outlook for crops in top supplier Brazil.
The March contract fell 2.4% to $2.064 a pound on ICE Futures U.S, but front-month futures were still up 1.2% for the week and 61% for the year after drought and frost slashed the Brazilian arabica harvest. Elevated freight rates and shipping delays compounded supply constrains and the higher costs.
Most Brazilian crops will have cherry growth and flowering with incoming showers the next week, but soil moisture will remain unfavorable in Parana and Sao Paulo states, according to Maxar Technologies Inc. Heavy rains that were expected to further hamper Colombia's harvest are now seen diminished for the next week.
Amid favorable rainfall in Brazil, there's been increased interest in buying put options for the right to sell futures below $2 a pound, said Hernando de la Roche, senior vice president for StoneX Financial Inc. That's injected "bearish" pressure.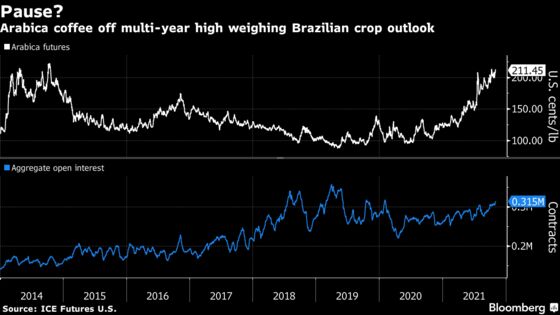 Above-average rain since September in most Brazil's growing regions means the country's 2022-23 total output will probably rebound from the slump this season to 54.7 million bags when drought and frost cut yields. That's according to Jorge Esteve, a Sao Paulo-based vice president for the Brazilian unit of Ecom Trading, one of the world's biggest traders of the commodity. That would help replenish depleted stockpiles.
In other soft markets, cocoa also dropped in New York, capping a weekly slump amid improving crop prospects for top suppliers in West Africa, while raw sugar extended this week's gain to 3.5%.  
Stay Updated With
Tech News
On BloombergQuint