Applied Materials Falls on Outlook as Customers Cut Spending
(Bloomberg) -- Applied Materials Inc., the biggest maker of machinery used to manufacture semiconductors and displays, gave a disappointing sales outlook, causing concern that the chip market has peaked.
Revenue in the fourth quarter, which ends in October, will be $3.85 billion to $4.15 billion, Applied Materials said Thursday in a statement. That compares with an average analyst estimate of $4.45 billion, according to data compiled by Bloomberg. If the company hits the mid-point of its forecast, that will be the first time revenue has failed to grow in more than two years.
"We have seen some near-term adjustments in customer spending," Chief Executive Officer Gary Dickerson said in the statement. During a conference call, the CEO said that while some customers are cutting back, the company and the industry are benefiting from broader demand and more disciplined investment than in previous cycles.
Applied Materials is one of the first suppliers that chip companies turn to when they're ramping up production or making new semiconductors. It's also first to feel the effects when firms delay or cancel plans. These are long-term projects, so investors scrutinize Applied Materials results for early clues on the health of the chip industry.
The shares fell 4 percent in extended trading after closing at $47.43 Thursday in New York. The stock is down this year, following jumps of 58 percent in 2017 and 73 percent in 2016. Lam Research Corp., another chip-equipment maker, declined 1.8 percent.
Nvidia Corp. added to the gloom with its own disappointing forecast late Thursday. Shares of the graphics chip specialist dropped more than 3 percent in extended trading.
After pouring money into new facilities over the last four years, chipmakers may now be slowing further purchases of equipment as they wait to see if there's enough demand for the production capabilities they've already built.
The supply of Nand memory, a common type of data storage, will grow slightly faster than demand this year. That will lead to flat or modestly lower spending by Nand manufacturers this year, Dickerson told analysts on Thursday's call.
The CEO also warned about foundry customers, which are firms that manufacture chips on behalf of other companies. Foundry operators have "trimmed" spending plans for 2018 by making the most of existing production capacity, he said.
Applied's projection may add to concern that a four-year surge in chip demand is beginning to slow. The company gets most of its revenue from the semiconductor industry's biggest producers -- Samsung Electronics Co., Intel Corp. and Taiwan Semiconductor Manufacturing Co. Samsung is the biggest maker of Nand and TSMC is the largest foundry operator. Customers like these order equipment from Applied Material months ahead of when they need to produce chips.
"We think investors will continue to sit on the sidelines (near-term) until the memory environment improves," Mitch Steves, an analyst at RBC Capital Markets, wrote in a note.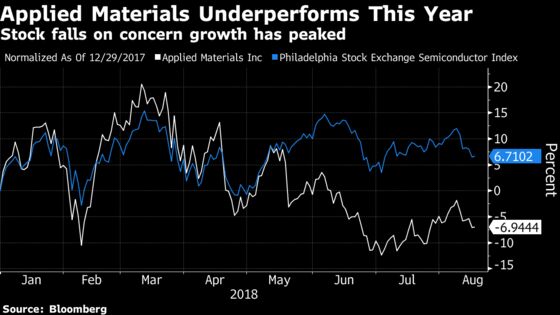 Still, Applied Materials executives stuck to most of their longer-term forecasts for the company and the industry. Advancements in artificial intelligence and demand for processing power from large cloud-computing providers are providing new opportunities for the company, Dickerson said.
"The AI big data era is a catalyst for Applied to play a bigger and broader role than ever before," he added.
Applied Materials executives also said the company has diversified. The CEO said about 40 percent of revenue comes from selling products and service beyond new semiconductor equipment. That includes machinery for making displays and solar panels.
The company also sees promise in its service business, which maintains installed machines. Chief Financial Officer Daniel Durn said 32 percent of semiconductor-related business comes from servicing that installed base.
Applied Materials shared new forecasts for 2020 that RBC's Steves described as "notably bullish." That may give investors an attractive entry point in coming months, the analyst added.
Fiscal third-quarter profit, excluding certain items, was $1.20 a share. Revenue rose 19 percent to $4.47 billion in the period that ended in July, slightly beating the average analyst projection.