Apple Screen Wizards Throng L.A. Expo to Find Future Displays
(Bloomberg) -- Apple Inc. screen engineers and executives crowded an industry conference in Los Angeles this week to check out new display technology that may be part of the company's iPhones, iPads, and augmented-reality glasses in 2020 and beyond.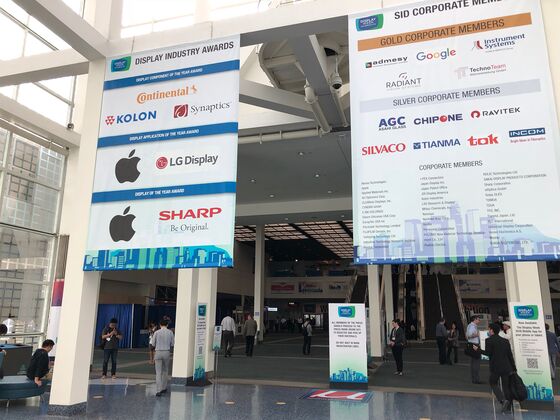 At the Display Week event in the L.A. Convention Center, dozens of suppliers showed off their latest screens. Japan Display Inc. had high-resolution displays for virtual-reality headsets. LG Display Co. discussed how it's building touchscreens for cars, while other companies showcased screens that work more reliably when wet and others that can be rolled up like a piece of paper.
While the technologies were innovative, they won't truly see the light of day until they're adopted by the largest consumer-device makers. Four of them -- Apple, Facebook Inc.'s Oculus, Amazon.com Inc. and Alphabet Inc.'s Google -- were present, but mostly on the sidelines. The tech giants have been attending Display Week for years, but this time Apple upped its presence significantly.
Display Week officials said 369 Apple employees registered to attend this year, up from 280 in 2017. Amazon, Google, and Oculus sent 25, 40, and 23, respectively, compared with 41, 35, and 15 a year ago.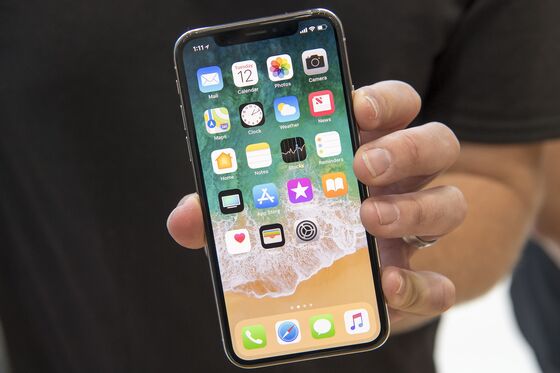 "It's hard to look around without seeing attendee tags with Apple written on them. Apple is clearly making a statement," said Ray Soneira, a display scientist who runs DisplayMate Technologies Corp. "Apple is trying to show the display industry that they're a top-tier screen developer now, in addition to being a buyer."
Apple started custom-calibrating iPhone screens for a few years, making sure the devices accurately reproduce colors. And it's been praised for the iPhone X's OLED display. The company is also building its own Micro-LED screens, experimenting with touchless gestures, and is planning a custom screen for an augmented-reality headset.
Apple executives and other staff helped lead 18 talks at the conference this year, up from 11 last year, while being careful to avoid discussing future company products or plans.
Wei Chen, Apple's vice president of screen technologies, attended the conference as he has done for a number of years, meeting and dining with display industry executives throughout the week.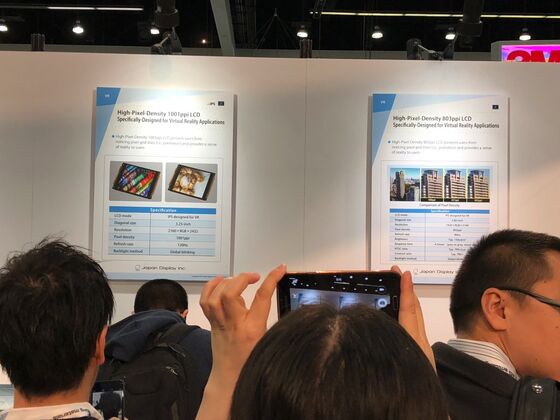 Out on the conference floor, some Apple engineers appeared particularly interested in screens used in virtual-reality headsets made by Japan Display, which already provides these components for iPhones. Other Apple staff took a close look at Samsung Display Co.'s latest high-resolution panels and screens that work well when wet from rain.
Japan Display and other companies showed off VR screens with more than 1,000 pixels-per-inch -- roughly double the density of typical VR displays today. That would bring the quality of VR screens up to Apple product levels.
"Most of the display parts are seen here two to three years before they hit the market," said Sri Peruvemba, the conference's marketing head. "Companies like Apple want to be involved in new technologies from the ground floor."