Apple Skeptics See More Pain Ahead on Weakness in China and EM
(Bloomberg) -- Apple Inc. shares have rebounded this year, but a pair of analysts say the company may not be out of the woods when it comes to demand for its key iPhone product line, particularly in the critical Chinese market.
Sales weakness in China is "likely to continue beyond the short term" as the issue goes "beyond price points," according to HSBC analyst Erwan Rambourg. He cited the firm's survey of Chinese customer preference, which showed "clear evidence of shifts in consumer preference with Apple losing in terms of aspiration to Huawei notably."
Earlier this month, research firm IDC calculated that Apple's smartphone shipments in China fell an estimated 20 percent in the fourth quarter, outpacing a 9.7 percent contraction in the Chinese domestic market. Issues surrounding iPhone strength have pressured Apple shares for months. While the stock has rebounded more than 20 percent off a January low, it remains 25 percent below record levels.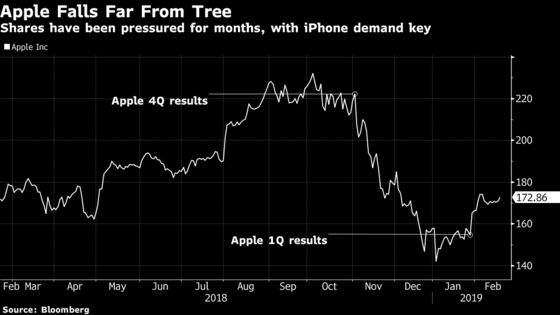 The iPhone comprised more than 60 percent of Apple's revenue in the fiscal year ended Sept. 2018, according to Bloomberg data, while the Chinese market accounted for almost 20 percent of overall revenue.
"Emerging markets will remain a question mark unless there is a sizeable shift in strategy," wrote Rambourg, who has a hold rating and $160 price target on the stock. Meanwhile, the European market -- which represented 23.5 percent of Apple's fiscal 2018 revenue -- is also "at risk of slippage in terms of market share as more value for money propositions, notably from Chinese players, gain in relevance."
This view was echoed by Loop Capital, which on Wednesday cut its 2019 iPhone revenue forecast to $130 billion from $147 billion, expecting the company to sell 180 million units, down from a previous view of 191 million.
Loop cited the company's negative preannouncement in early January, along with "potentially more pronounced seasonality for the March quarter, ongoing softness in China's economy, and what we believe is some combination of an elongating upgrade cycle and/or mix-down cycle."
Analyst Ananda Baruah, who has a hold rating and $160 price target on Apple, said the firm's estimates for revenue and average selling prices imply that Wall Street "may not fully be aware" of these dynamics, and that "as such we could see future Street iPhone revenue
adjustments."
Currently, 22 firms have a buy rating on Apple, while another 22 rate it a hold and just one has it as a sell. The average price target is about $177, or roughly 2 percent above current prices.
Even the stock's champions are looking past the iPhone. D.A. Davidson, which has a buy rating and Street-high price target of $245, on Wednesday wrote that it was "continuing to monitor Apple's efforts to diversify its revenue and become less dependent on iPhone sales." In particular, analyst Tom Forte wrote he was watching the company's moves in healthcare, automotive technology, content, and advertising, among other categories.