Amazon Value Tops $1 Trillion After Results Beat Expectations
(Bloomberg) -- Amazon.com Inc.'s valuation briefly topped $1 trillion on Friday after its results beat expectations, with analysts applauding the popularity of the e-commerce giant's one-day shipping initiative and the performance of its cloud-computing business.
Shares surged as much as 9.9% in their biggest intraday gain since 2017 before paring back gains to trade below the $1 trillion threshold. The stock hit a record high after reporting what Robert W. Baird & Co. analysts called an "impressive quarter from top to bottom." Goldman Sachs analysts pointed out that it was the first time the company beat the upper end of its revenue guidance since the first quarter of 2018.
The results sparked a rush on Wall Street to raise price targets for the stock, with RBC Capital Markets analysts giving it a new Street-high target of $2,700, implying 44% upside from Thursday's close. The average target currently sits at $2,417, compared with under $2,200 a week ago.
Had it closed above $1 trillion -- something it also did briefly back in 2018 -- Amazon would have joined Apple Inc., Microsoft Corp. and Google-parent Alphabet Inc. on an exclusive list of U.S. tech companies to have reached that valuation.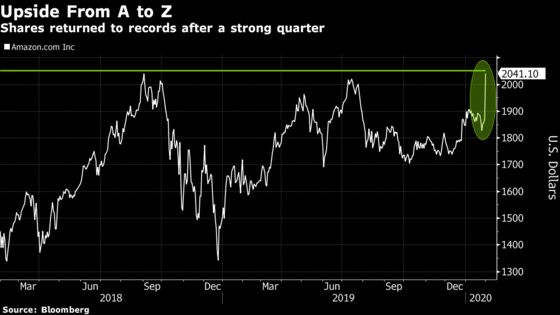 Here's a roundup of what analysts had to say.
Credit Suisse, Stephen Ju
(Outperform, price target raised to $2,400 from $2,100)
"All of the investor questions around [return on invested capital] were answered." As recent underperformance was related to these questions, "we expect the stock to outperform once again as capital rotates back in."
(Buy, price target raised to $2,480 from $2,330)
The results featured "beats across the board," and there are "several profit drivers emerging."
Amazon Web Services "is seemingly back in strong position as a top cloud play"; revenue growth and margin improvement in this business is "key" for investors.
(Buy, price target raised to $2,440 from $2,305)
This report "checked all the boxes."
Even given the strong reaction to the results, expects the stock "to sustain outperformance in 2020."
Morgan Stanley, Brian Nowak
(Overweight, price target raised to $2,400 from $2,200)
Results and guidance showcase how one-day delivery is driving faster-than-expected share gains, while an even more bullish point is that one-day is also driving faster Fulfillment by Amazon (FBA) adoption.
FBA is another incremental revenue stream to fuel profits and ability to invest to attack new markets such as grocery, logistics and healthcare.
Meanwhile, investments in the Amazon Web Services (AWS) salesforce are driving better enterprise customer adoption, "particularly bullish as AWS continues to attack the $500 billion-plus addressable market for public cloud."
(Outperform, price target raised to $2,450 from $2,150)
One-day shipping costs were lower than expected while volume acceleration remained robust and downside margin risk is now considerably lower.
AWS revenue beat BMO's estimate, and BMO said that unit can continue to grow meaningfully despite competition as the overall market expands. Investors should also feel confident that the investment phase has peaked.
(Outperform, price target raised to $2,275 from $2,080)
Amid investor concern around infrastructure investments, AWS competition and a shorter holiday shopping window, the results showcased the benefits of Amazon's increasingly diversified business model and one-day roll-out.
Broader adoption of fulfillment service, stable AWS trends, and ad revenue growth were key highlights, although a softer margin outlook likely reflects ongoing logistics investments.
Goldman Sachs, Heath Terry
(Buy, price target raised to $2,600 from $2,200)
Notes AWS operating margins saw first quarter-on-quarter expansion since the third quarter of 2018.
With concern about deceleration in AWS business allayed, at least for the moment, revenue growth driven by investments in fulfillment and infrastructure is likely to spur significant share-price outperformance.
RBC Capital Markets, Mark Mahaney
Outperform, price target raised to $2,700 from $2,500
One-day delivery is proving out, Prime memberships are growing rapidly and international retail is poised to accelerate thanks to multi-year investments.
Raises 2020 operating income estimate 4% amid fundamentals that were "reasonably solid," though notes that organic revenue growth decelerated amid tough year-over-year comparisons.
ALSO READ
RELATED COVERAGE
Amazon Set to Break Record for One-Day Gain in Market Cap
Stay Updated With
Tech News
On BloombergQuint