Alphabet Slides as Analysts Cite Caution Over Falling Margins
(Bloomberg) -- Alphabet Inc. fell in pre-market trading after the company reported fourth-quarter revenue that beat expectations, but heavy spending to expand its cloud and YouTube businesses resulted in thinner profit margins.
While most analysts remained positive on the strength of revenue growth, a few trimmed their price targets, with RBC writing that the operating margins were "the lowest we've seen in many years." Alphabet shares slipped 2.4 percent at 7:40 a.m. in early trading.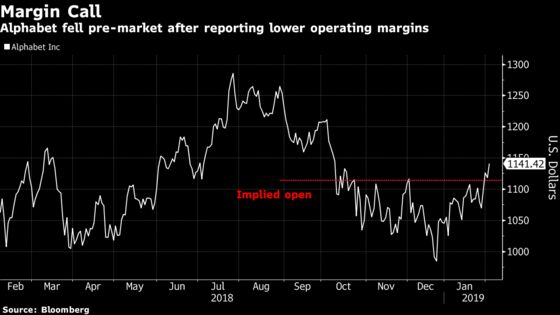 Here's what analysts are saying about the results:
RBC Capital Markets, Mark Mahaney
Revenue growth was "very consistent & robust" with an "unprecedented 36 straight qtrs of 23% Y/Y growth." However, the GAAP operating margin "was the lowest we've seen in many years."
Price target lowered to $1,300 from $1,400, reiterates outperform rating
Nomura Instinet, Mark Kelley
"The revenue outperformance was importantly driven by better Google revenue, with Other Bets below our estimates (to be expected with no disclosure)."
"For the full year, Capex almost doubled, but the 2019 outlook calls for Capex growth to slow 'meaningfully.' "
Keeps buy rating, but trims price target to $1,310 from $1,350
Morgan Stanley, Brian Nowak
Affirms overweight rating and its Street-high price target of $1,500
The fourth quarter "highlights the strength of GOOGL's core and portfolio of assets, difficulties in modeling qtrly ins and outs, and need for better transparency."
Alphabet's "core/Other Bets are strong and appreciating in value. But it may take revisions or disclosure for the market to appreciate that."
Read more: Disclosure Is Google's Wild Card as Costs Rise: Earnings Outlook
"Elevated R&D and capex spend overshadow solid revenue beat."
"Investors will likely focus on accelerating R&D spend and $7 billion of quarterly capex as a potential indication of ongoing investments (and margin pressure) in CY19, as also suggested by Chief Financial Officer Ruth Porat's comments."
Other revenue of $6.48 billion slightly above the average estimate reflects "continuing momentum for Google Cloud platform, inclusion of Nest, along with Google Play and Pixel hardware."
Baird has an outperform rating and $1,380 price target.
Raymond James, Aaron Kessler
"Some of the R&D costs were more one-time nature and Google also noted that headcount growth will moderate in 2019 and capex growth will moderate quite significantly."
"Slowing opex growth in 2019 could serve as a catalyst for shares."
Kessler maintains outperform rating and $1,300 price target "given solid continued advertising growth (search/YouTube), increasing Google Cloud/hardware traction, and an attractive valuation."