Activision Falls as Call of Duty Launch Sales May Disappoint
(Bloomberg) -- Activision Blizzard Inc. fell as much as 9 percent after announcing that its newest release, Call of Duty: Black Ops 4, passed $500 million in worldwide sales in its first three days of release -- a launch that Bloomberg Intelligence's Matthew Kanterman called "slow" and which may have missed some estimates.
Assuming a ~$60 price tag for the game, the $500 million figure would imply 8.3 million units sold. This compares to Jefferies analyst Timothy O'Shea's estimate of 10 million copies sold on launch weekend with the potential for an additional 5 million units through the end of the fourth quarter.
Kanterman says there is nothing to fret about. He writes "we aren't worried about lower-than-predicted opening weekend sales of Activision's Call of Duty amid strong digital sales and high engagement." He is not alone in his optimism.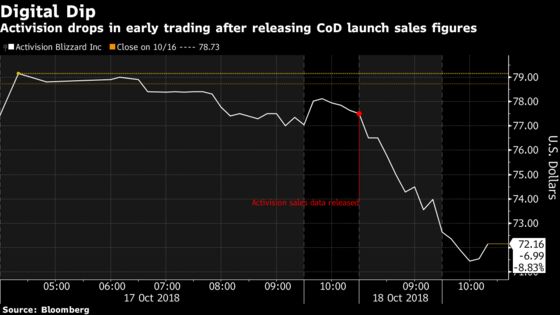 The lower numbers may be due to its release timing, according to Piper Jaffray who rates the stock at the equivalent of a buy with an $88 price target. Analyst Michael J. Olson notes the launch was "pulled forward from its historical November launch timing, important given early sales of this year's version will not benefit from the approaching holiday season as much as previous years." He says the numbers are in-line with his expectations, modeling 23.5 million units sold for 2018.
Keybanc analyst Evan Wingren, who remains bullish on the stock, says despite "lofty expectations, we view the results as better than feared given initial physical sales data points; the combination of what appears to likely be a digital acceleration above expectations, more PC sales, and high potential for Blackout given engagement" in a note.
"While we note the timing of the release as well as the exclusion of a single-player mode may slightly skew the Y/Y comparison, we view these early engagement statistics as another sign of a strong launch" says Baird analyst Colin Sebastian, another Activision bull. Wingren and Sebastian have price targets of $90 and $85, respectively, compared with the Street-high at $93.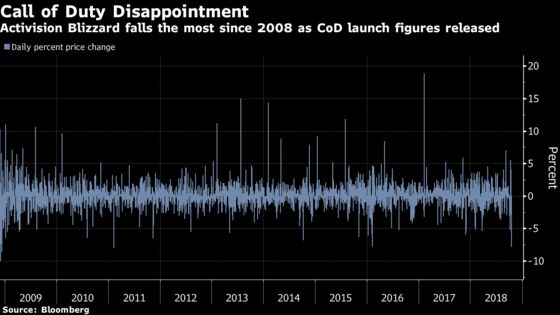 Activision said the game has already set franchise records for combined players, average hours per player and total number of hours played
Competitors Electronic Arts Inc. and Take-Two Interactive Software Inc. are also trading down
ATVI has 21 buys, 9 holds, and 1 sell; average PT $82: Bloomberg Data
ATVI is expected to report 3Q earnings Nov. 8 post-market