Activision Plunges as Outlook Renews Fears About Fortnite Effect
(Bloomberg) -- Activision Blizzard Inc. is once again grappling with the Fortnite effect.
Shares of the video-game maker plummeted 11 percent after it delivered a weaker-than-expected forecast, renewing doubts about whether its latest games can steal attention away from Fortnite and other rival titles like Red Dead Redemption 2.
Activision also will probably have a light slate of new games in 2019, so there's more pressure on current titles to take off, according to Matthew Kanterman, an analyst for Bloomberg Intelligence.
The stock rout extends a difficult stretch for Activision and Chief Executive Officer Bobby Kotick. The shares were hammered earlier this week after gamers criticized its new Diablo Immortal mobile title. The company expressed faith in the Diablo game on Thursday, though it's having a difficult time reassuring investors.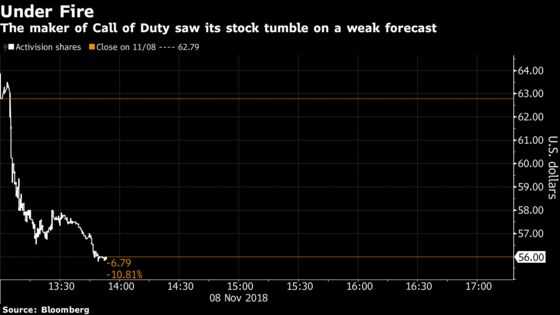 The results sent Activision shares down as low as $55.80 in extended trading. The stock had dropped less than 1 percent this year through Thursday's close.
Fortnite, a last-man-standing title from Epic Games Inc., has become a cultural phenomenon. The excitement has attracted new players to the industry, potentially helping competitors. But it's not clear how much Activision will be able to capitalize on the trend.
The company, whose lineup also includes Candy Crush Saga and World of Warcraft, expects fourth-quarter earnings of $1.27 a share, excluding some items. Analysts projected $1.31 a share, the average of estimates compiled by Bloomberg.