Less Oil, More Teslas Force Norway to Slash Cash to Wealth Fund
(Bloomberg) -- The days of crisis withdrawals from Norway's sovereign wealth fund are over, but its $1 trillion fund is still being kept on a diet.
The government on Tuesday cut its forecasts for transfers to the fund this year by 37% because of lower expectations for oil prices and production.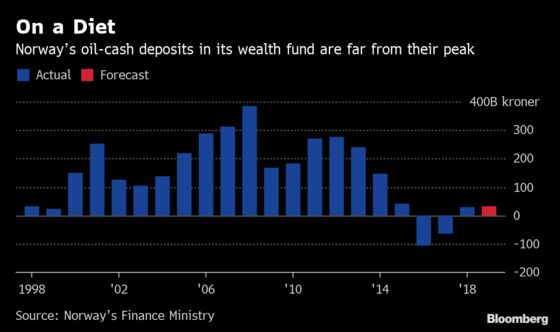 Perhaps more surprisingly, Finance Minister Siv Jensen also said one reason the government had to increase oil cash spending, leaving less to transfer to its piggy bank, is a boom in electric car sales. Since emission-free cars like Tesla Inc.'s are exempt from import and value-added taxes and other fees, that will lead to a shortfall of about 3 billion kroner ($344 million) in this year's budget, she said.
The diverse factors affecting Norway's budget and its massive wealth fund illustrate the contrasting realities of a country that's both western Europe's biggest oil and gas producer, dependent on petroleum for half of its exports, and the world's top adopter of electric vehicles measured per capita.
Norway now expects to deposit 34 billion kroner in the fund this year, it said in its revised budget on Tuesday. That's down from 53 billion kroner in the initial budget in October. The deposits are still expected to be larger than the 25 billion kroner it put in the fund last year, when it resumed deposits after two years of outright withdrawals.
The drop-off will mean little to the fund, which has an annual cash flow of about 200 billion kroner to make shifts in investments.
The Finance Minister, when asked about the lower deposits, said she saw little reason to be concerned for the fund.
The lower inflows are mostly due to a lower expected net cash flow from petroleum activities. The government cut its forecast for oil prices in 2019 to 559 kroner a barrel from 583 kroner. In January, the Norwegian Petroleum Directorate slashed its prognosis for crude production to the lowest in 31 years, also cutting its forecast for natural-gas output.
The Conservative-led government on Tuesday raised the amount of its oil wealth it plans to spend to plug the budget hole to 238 billion kroner from 231 billion kroner seen in October.
Part of the reason was the shortfall in automobile taxes. For the first time in March, more than half of monthly new-car registrations in Norway were electric vehicles, much thanks to a record set by Tesla's Model 3.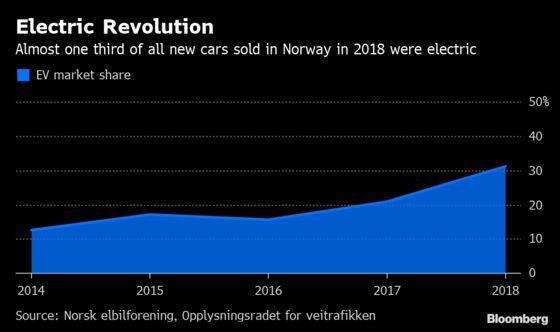 In an interview after presenting a revised budget on Tuesday, Jensen said that Norway for now should be happy that the oil industry is doing well and that it's delivering "a good contribution" to the economy.
"But we have long known that we will see less help from the oil sector in the coming years," she said.