Facebook Shares Continue To Lag After Analysts Take Opposite Sides
(Bloomberg) -- Facebook Inc. shares continued to lag behind FANG counterparts on Thursday after a pair of analysts took opposing sides on the stock.
Vertical Group says fears that the company's revenue growth will be hurt by a shift to newer products and data privacy changes are over-exaggerated, while Cleveland Research cut sales estimates for the current quarter, citing lower spending from advertisers. Facebook fell 0.3 percent as of 12:19 p.m. in New York, while Amazon.com Inc., Netflix Inc. and Google parent Alphabet Inc. traded higher.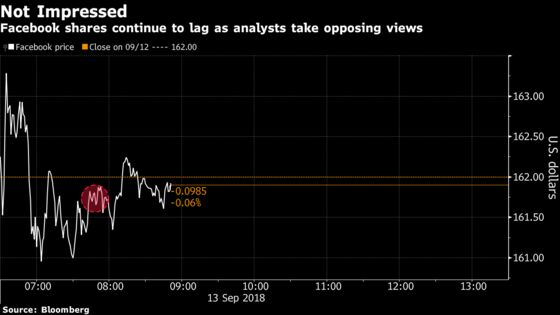 Facebook is the only member of the group that's lost value in 2018, as data privacy scandals and scrutiny over its role in election meddling have weighed on user growth and spurred greater spending on things like security. Facebook has lost about 8 percent so far this month and is on track to close at its lowest since April.
The social media behemoth is expanding photo and video fact-checking capabilities to all of its 27 third-party fact-checking partners, the company said in a blogpost on Thursday. Facebook is much "better protected" against political sabotage today than two years ago, Chief Executive Officer Mark Zuckerberg said in a separate post published on Wednesday, where he detailed the steps the company has made to remove fake accounts and boost security on its popular properties.