Tesla Bull Capitulates, Says Stock Is 'No Longer Investable'
(Bloomberg) -- Nomura Instinet analyst Romit Shah downgraded Tesla Tuesday to neutral from buy in a note titled "No Longer Investable." The note to clients starts by pointing out that previously he's been one of the biggest bulls on the Street since initiating coverage last October.
Shah slashed his price target on the company to $300 from $400 citing the "erratic behavior of CEO Elon Musk." Among Shah's concerns: The increasing number of Musk tweets per day, his cave diver accusations, his outbursts on an earnings call, his taunts of short sellers and his appearance on Joe Rogan's podcast.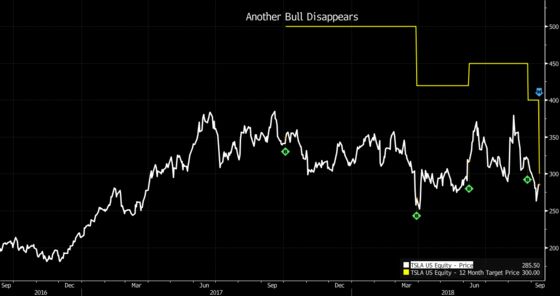 Shah continues to believe that Tesla can out-innovate the competition and that the company may eventually be much bigger than it is today, but says it's better to remain on the sidelines until the company has better leadership. Tesla shares have lost over 20 percent of their value since early August in the wake of Musk's "funding secured" tweet.
Tesla fell as much as 4.2 percent to $273.64 at 11:35 a.m. in New York. The stock is pointing to a decline for September, hasn't seen back-to-back monthly gains since December and January, and is off almost 30 percent since hitting the $385 all-time high almost a year ago.
After Shah's downgrade, bulls on the stock have become the minority with just 9 analysts recommending buy, 11 saying hold and 12 rating it a sell, according to data compiled by Bloomberg. The automaker leads the S&P 500 in sell recommendations from analysts.
Elon Musk tweeted late last night that the company would be eliminating two color options in order to simplify its its manufacturing operations. The company last week also named as automotive president Jerome Guillen, who has a reputation as Tesla's fixer with a good track record of working with Musk.
In a blog post dated Sept. 7, Musk said Tesla is about to build and deliver more than twice as many cars as it did last quarter, without specifying whether the company would accomplish this feat in the third or fourth quarter. During the three months that ended in June, Tesla produced 53,339 vehicles and delivered 40,740.
The only forecast Tesla had given previously for the third quarter was that it would produce 50,000 to 55,000 Model 3s, the mass-market model that Musk has highlighted as crucial to his plans for profit.