France Joins 21st Century Space Race Fearing Future Conflict
(Bloomberg) -- France signaled the 21st century space race is shifting to a new, potentially more dangerous phase with an unprecedented program of investment to protect critical infrastructure from aggressors.
Officials in Paris suspect Russia was trying to intercept secret communications when it flew a spy probe close to a European satellite 22,000 miles (36,000 kilometers) above the Earth last year, Defense Minister Florence Parly said as she announced the measures.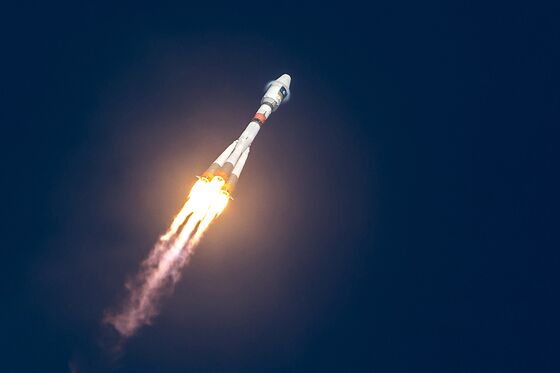 "This sort of behavior carries the seeds of the conflicts of tomorrow," Parly said Friday in a speech at the French National Space Agency's headquarters in Toulouse. "We are in danger."
France wants to develop independent space capabilities due to the new military threats brought by China and Russia and tensions with the U.S., the traditional guarantor of European security.
The government will order a series of new satellites to provide surveillance and communications for the army and the intelligence services and also to beef up the technological prowess of its manufacturers including Thales and Airbus. The EU plans to earmark 16 billion euros ($19 billion) in its 2021-2027 budget for space, with most going to the the military and civilian satellite navigation system Galileo.
France plans to spend 2 billion euros next year, an official said. Officials in Paris are also seeking to work with Germany to help companies invest in innovative and disruptive space projects in a bid to catch up both financially and technologically with China and the U.S.
German Chancellor Angela Merkel emphasized her own ambitions for Europe to become more independent of the U.S. when she met with French President Emmanuel Macron in Marseille Friday.
"I'm very optimistic that we will move forward together for a Europe that's self-reliant, a Europe that can resolve its problems independently," she said.
Europe has watched with alarm as its main ally revives the Cold-War era space rhetoric, with an explicitly military goal. In March, U.S. President Donald Trump said he wanted to created an American "Space Force." He wants Congress to allocate $8 billion over the next five years for space security systems, Vice President Mike Pence said, calling for an "American dominance in space."
Despite an international treaty signed in 1967 that prohibits the placement of weapons of mass destruction in space or the moon, the agreement doesn't bar the use of conventional weapons in orbit.
The U.S. move to create a space force comes after Pentagon Secretary Jim Mattis initially pushed back on the idea. But the initiative has gained momentum and Mattis last month said the U.S. recognized the threat posed by other nations in space.
"Space is one of our vital national interests," Mattis said Aug. 9.
The U.S. already has a space-based military footprint. The sky is teeming with spy satellites and other platforms that support government surveillance, communications, weather forecasting and other activities. The Air Force also has a top-secret aircraft, the X-37B, built by Boeing Co., which orbits the earth for extended periods.
"Russia and China continue to publicly and diplomatically promote international agreements on the non-weaponization of space and 'no first placement' of weapons in space. However, many classes of weapons would not be addressed by such proposals, allowing them to continue their pursuit of space warfare capabilities while publicly maintaining that space must be a peaceful domain," the report said.
The French military was given a first-hand taste of how the contest for control of space might initially play out last year when Russia's Louch-Olymp satellite approached a French-Italian orbiter. The maneuver was so unusual and so close the craft was most likely trying to intercept French communications, Parly said.
"We know for a fact that other great space powers are putting some intriguing objects into orbit, testing potentially offensive capabilities, conducting maneuvers that leave little doubt about their aggressive motives," Parly said. "The stakes are high. This is an absolute priority."