Tesla's $1.8 Billion of Junk Bonds Hit Lowest Since 2017 Sale
(Bloomberg) -- Tesla Inc.'s $1.8 billion of junk bonds fell to their lowest price since they were issued last year after Mercedes-Benz unveiled a new electric car and Goldman Sachs Group Inc. said the company might struggle to meet Elon Musk's goal of being cash-flow positive.
"The advantage Tesla had as first to market is starting to go away," said John McClain, a high-yield portfolio manager at Diamond Hill Capital Management, which oversees $22.5 billion. "It's going to be a much more competitive marketplace in the coming years, and you combine that with Musk with his own personal issues."
A representative for Palo Alto, California-based Tesla did not immediately respond to a request for comment.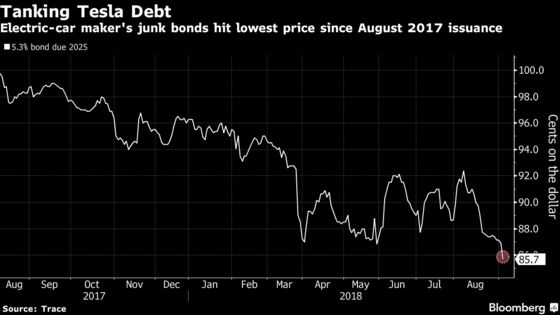 Tesla's 5.3 percent bonds dropped 1.2 cents to 85.7 cents on the dollar at 2:40 p.m. in New York, according to Trace bond price data. That gives the notes, which are senior unsecured and due in 2025, an effective yield of more than 8 percent.
Mercedes, the world's largest maker of luxury cars, rolled out the first of a planned series of electric vehicles Tuesday, adding to a growing array of high-end companies targeting Tesla's niche. The crossover vehicle will start production in the first half of next year, Daimler AG Chief Executive Officer Dieter Zetsche told reporters in Stockholm, and the company has invested more than 10 billion euros ($12 billion) in the electric car push.
Goldman Sachs Group Inc. analyst David Tamberrino also reinstated his sell rating on the company's stock Tuesday, saying that the carmaker may make money this year as it grows production and deliveries of its mass-market Model 3 sedan but it's unlikely to be sustained as spending ramps up. Goldman had restricted its coverage of the stock while it was advising Musk, Tesla's founder and CEO, on taking the company private.
Tesla's stock extended declines Wednesday afternoon, dropping 3.2 percent to $279.71, its lowest price since late May.