JD.com CEO Arrested for Alleged Sexual Misconduct in the U.S.
(Bloomberg) -- JD.com Inc.'s billionaire founder was arrested for alleged sexual misconduct during a trip to Minnesota, with local police beginning an investigation into the chief executive officer of one of China's largest internet corporations.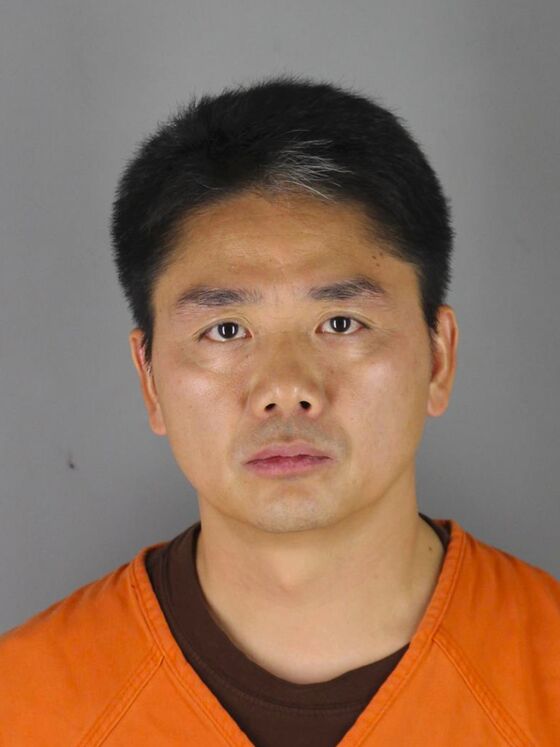 Liu Qiangdong, who uses the English name Richard, was brought in at 11:32 p.m. Aug. 31 on a charge of "criminal sexual conduct" and released at 4:05 p.m. Sept. 1, according to the Hennepin County Sheriff's arrest records. Minneapolis Police Department spokesman John Elder declined to provide any further details about the reasons for the arrest, but said authorities decided not to keep Liu in custody and haven't imposed any travel restrictions on him while conducting their investigation.
JD.com is the country's largest e-commerce company after Alibaba Group Holding Ltd., backed by investors from social media titan Tencent Holdings Ltd. to American names Walmart Inc. and Alphabet Inc.'s Google. Liu, 45, has led the $45 billion business since its founding and controls the business through special voting rights.
"We are very much in the infancy of this investigation," Elder said. Authorities may decide not to charge Liu at all, he added. "There are no travel restrictions on him at the moment and he's not charged with a crime at this time."
The company said on its official Weibo social media account that U.S. police found no misconduct in their probe against Liu. It didn't elaborate nor explain how that assertion squared with the police's own statement of an ongoing investigation. Representatives for JD weren't responding to requests for comment on Monday. In its Weibo post, the company said he will continue his scheduled trip.
Liu is registered as a student at the University of Minnesota's Carlson School of Management in its Doctor of Business Administration program, the Minneapolis Star Tribune reported, citing a spokesman. Participants were in town from Aug. 26 through Saturday as part of their residency, the newspaper reported. The university didn't respond to calls and emails from Bloomberg News outside normal business hours.
"Investors may treat the stock cautiously for the next short while as they wait to see how this issue is resolved," said Mark Natkin, managing director of Beijing-based Marbridge Consulting. "But I suspect it will likely not come to much and that it won't have any major long-term impact on the stock."
JD's ADRs won't trade in the U.S. until Tuesday because of the Labor Day holiday Monday. Spreads on the company's dollar bonds widened at least three basis points, according to Asia-based traders.
Earlier this year, a guest at a party Liu hosted in downtown Sydney was convicted of sexually assaulting a fellow guest after the event. There was no accusation of any misconduct by Liu. The billionaire lost a legal attempt to keep his name out of the records. Over the weekend, JD said it will take legal action against the publishing of untrue reports or rumors.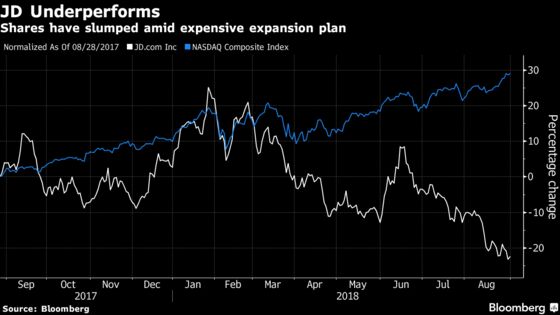 Liu became one of China's best-known self-made billionaires by turning a chain of electronics goods stores into an online powerhouse selling everything from mobile gadgets to fresh seafood. It's Walmart's partner in the country and its largest shareholder is WeChat operator and games giant Tencent. The CEO has amassed a fortune of about $7.3 billion, according to the Bloomberg Billionaires' Index.
JD.com Bond Spreads Recover After Widening Earlier on CEO Arrest
His wife Zhang Zetian is famous in China in her own right with 1.5 million followers on Weibo. She was dubbed "Sister Milk Tea" after a photo of her holding the drink went viral on social media in the country.
Liu's JD has started pushing into physical stores and the billionaire speaks openly about his longer term goal of expanding internationally, though its incursions overseas have so far mostly been limited to Thailand, Indonesia and Vietnam. Liu has his eyes on the affluent consumers of Europe and the U.S. as he makes substantial investments in the infrastructure needed to supply millions of customers around the world.
His high-spending strategy has drawn criticism from investors who would prefer it remain focused at home. JD's share price hit a record high in January only to tumble since then after failing to deliver the full-year profit many analysts had expected. In the June quarter alone, the company had a net loss of 2.2 billion yuan ($322 million).
"The arrest of JD.com's chairman and CEO in the U.S. should not immediately impact the company's operations," Vey-sern Ling and Tiffany Tam, analysts for Bloomberg Intelligence, said in a report Monday.