Vestas Jumps on Strong Order Intake, Share Buy Back Plan
(Bloomberg) -- Vestas Wind Systems A/S surged the most in two years after the wind turbine maker announced a 200 million-euro ($227 million) share buyback and said its orders rose.
"Order intake was very strong, and profitability was clearly above market expectations," said James Evans, an analyst at Bloomberg Intelligence. It was "aided by Vestas' new push into co-developing projects, with two U.S. wins and a large Swedish order signed as a result."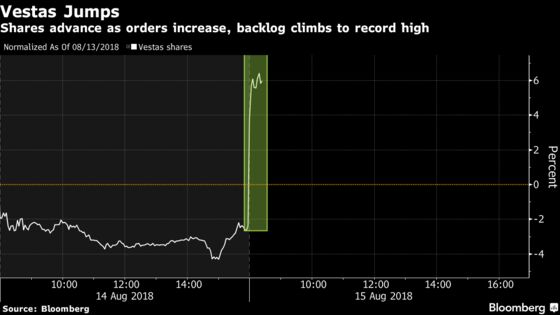 Its order intake rose to 3,807 megawatts in the second quarter of 2018, compared with 2,667 megawatts in the same period last year. The total backlog was 23 billion euros, an increase of 2.8 billion euros.
"In the first half of 2018, the wind industry strengthened its position as the cheapest form of energy generation in many markets, which drove strong global demand," Chief Executive Officer Anders Runevad said in a statement to the Copenhagen stock exchange on Wednesday. "This development saw Vestas' second quarter order intake increase 43 percent year over year, contributing to the continued growth of our order backlog to an all-time high."
The company narrowed its guidance for revenue and margins, noting that a trade war is unsettling the outlook for wind turbine manufacturers. Vestas hedges the steel price and pre-buys the primary material for its towers, so it's not expected to be affected this year but it could be in 2019, according to Chief Financial Officer Marika Fredriksson.
"For this year 2018, we are not expecting any impact from higher raw material prices, steel primarily," Fredriksson said in a conference call. "For the coming years that is another thing but that's also something we'll have to come back to when we guide for '19."
The results underscore the difficulty manufactures of renewables technologies are facing in capitalizing on a surge of installations for their products. With governments around the globe encouraging less-polluting forms of power generation, orders at companies like Vestas are near record levels, though increasing competition has kept a lid on margins.
Shares rose as much as 9 percent in Copenhagen trading, their biggest leap since August 2016 and reaching the highest level in almost three months.
The world's biggest maker of wind turbines expects its revenue this year of 10 billion euros to 10.5 billion euros, down from its previous forecast of 10 billion euros to 11 billion euros. It also now expects an operating profit margin of 9.5 percent to 10.5 percent, less than its previous forecast of 9 percent to 11 percent.
Earnings before interest and tax rose to 295 million euros compared to 279 million euros in the same period last year, beating the median analyst estimate of 213.5 million euros. Vestas also announced a 200 million-euro share buyback, the third such program it has run in recent years.
Vestas said its margin narrowed 11.5 percent in the second quarter from 12.6 percent a year ago, reflecting stiff competition within the industry that depressed prices. It's also concerned about "external factors" that will weigh on earnings in the months ahead, like the trade tariffs threatened between the U.S. and European Union.
The turbine maker received most of its large-scale orders from the U.S. as usual, getting at least four this quarter. It also booked sizable orders for projects in Germany, Australia, Mexico, Norway, Japan, Sweden, Argentina, Dominican Republic, Bolivia, France, Panama, Italy and India.