What If the Museum of Ice Cream Is the Future of Retail?
(Bloomberg Businessweek) -- At the Museum of Ice Cream, patrons can ride in an ice cream sandwich swing, swim in a pool of plastic ice cream ­sprinkles, and seesaw on a giant ice cream scoop. But you already knew that. Its often sold-out installations are extensively documented on the Instagram feeds of David Beckham, Beyoncé, and the thousands of noncelebrities lucky enough to get in.
Contrary to its name, the Museum of Ice Cream, a pop-up attraction now in San Francisco, isn't a museum. It's more like a playground with no age limit. It's also the most visible end of a growing movement that's blurring the line between shopping and entertainment. Rosé Mansion, which opened on July 12 in New York, is a two-story celebration of the pink drink with rooms of rose petal baths and décor resembling Champagne bubbles. Candytopia, a real-life Candy Land with a marshmallow pit and edible confection samples, opens Wednesday in New York with another Bay Area pop-up in September.
Much of the debate around these selfie magnets focuses on what to call them. Are they institutions with cultural value? Or are they "braindead, Instagram-optimized fun houses," as Jason Farago, editor of contemporary art magazine Even, put it in his newsletter? Neither, says Manish Vora, co-founder of the Museum of Ice Cream. For him it's a new retail form, one that follows in the footsteps of such businesses as Warby Parker.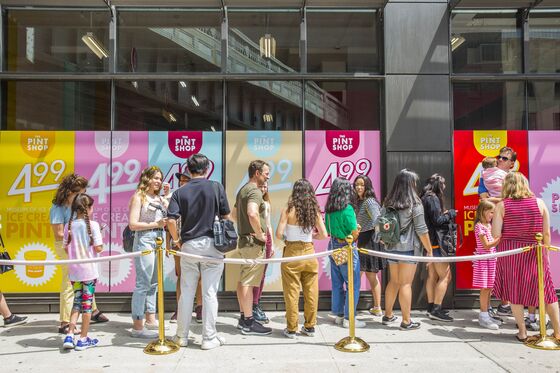 Harvard Business Review coined the term "experience economy" in the late 1990s, but the concept took hold only recently. "Both new and existing companies are increasingly incorporating heavy experiential components into their business," says Warren Teichner, a McKinsey & Co. senior partner. James Cook, ­director of retail research at investment management company JLL, sees long-term potential. "Entertainment is going to be the new anchor," he says. "It's going to be driving traffic to the shopping centers of the future." (If there are any.)
The formula has yielded a hearty return for the Museum of Ice Cream, which began in 2016 as a pop-up in Manhattan's Meatpacking District. This year it surpassed 1 million visitors across its various locations. Tickets run as much as $38, and it's received sponsorship from Dove Chocolate and American Express Co., among others.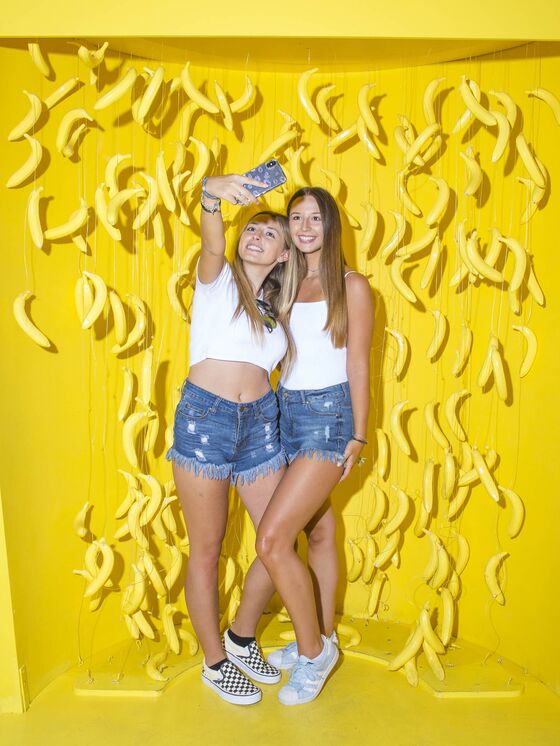 This summer the Museum of Ice Cream parlayed that viral success into a pop-up grocery in New York's Chelsea neighborhood called the Pint Shop, which also offers ticketed tastings. It brokered a nationwide merchandising deal with Target Corp., which on July 7 began offering museum-­branded clothes and pints in flavors such as Churro Churro and Vanillionaire. "It's in their freezers," Vora says. "It becomes more than an Instagram feed."
The Target partnership is off to a promising start. Todd Waterbury, the chain's chief creative officer, says retail "has always been a form of theater, of staging and story­telling, with products as cast members."
Rosé Mansion, likewise, sees a bustling business of 500 to 750 visitors every day, according to co-founder Tyler Balliet. Tickets for the event, set to run until October, are $45, with a $35 "happy hour" special on weekday afternoons. It has introduced a rosé wine club as well that delivers a package of three bottles once every three months for $54.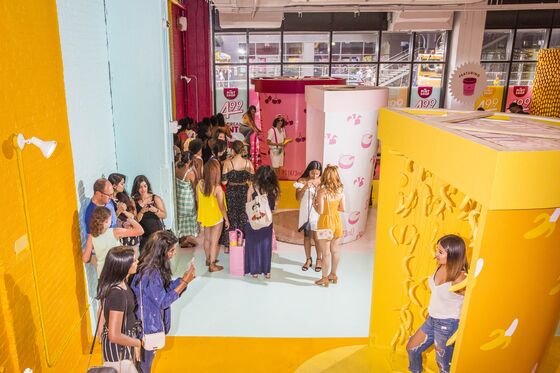 Dream Machine, which runs in Brooklyn until Sept. 9, has sold $2 million in tickets since opening in April. A $28 matinee takes guests through a surrealist reverie, complete with Technicolor neon lights and a room built to make visitors feel as if they're at the bottom of a giant swimming pool. Paige Solomon, Dream Machine's co-founder, shirks a one-to-one comparison with existing institutions. "I actually think it's a crime to call these pop-ups '­museums,' " she says. "I don't even know if I consider myself an artist. I'm more of an experience designer."
Either way, more are coming. The Color Factory, which made its debut in San Francisco in 2017 and charges $38 to visit intensely hued spaces filled with disco balls and giant Lite Brites, will open a pop-up in New York on Aug. 20. A Museum of Pizza is set for October.
Vora says these competitors are a validation of his market. He plans to establish permanent locations in 2019 in New York and Los Angeles, as well as an international venue in Asia. And he's already looking toward his next project, which may or may not be ­dessert-themed. "We're passionate about ice cream," he says, "but it's just one movie franchise in our future Disney."
To contact the editor responsible for this story: James Gaddy at jgaddy@bloomberg.net, Justin Ocean