Indonesia to Impose Import Curbs to Halt Currency's Slide
(Bloomberg) -- Indonesia plans to restrict imports of capital and consumer goods and accelerate the use of biofuel to cut crude oil purchases to stem a slide in the nation's currency.
The government will control inbound shipments of goods bought through online stores and push for import substitution wherever possible, Finance Minister Sri Mulyani Indrawati told reporters in Jakarta after a cabinet meeting. President Joko Widodo will sign a regulation mandating 20 percent blending of palm biodiesel in more sectors latest by Wednesday and the move may cut crude oil imports by about $2.3 billion this year, Coordinating Minister for Economic Affairs Darmin Nasution said.
Widodo is tapping the fiscal space to shore up dollar supply and minimize the fallout of the market rout on his re-election prospects next year. The central bank is selling billions of dollars from its reserves to halt the rout and may be forced to raise interest rates again after three hikes since mid-May.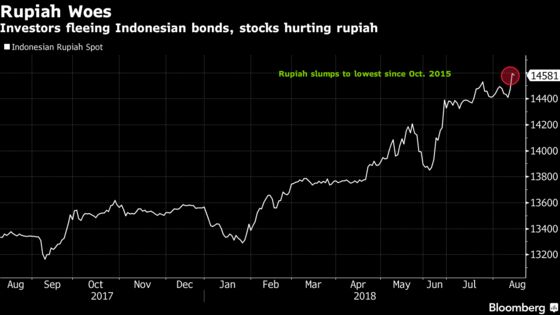 "We will take firm and drastic measures to control imports," Indrawati said. "We have identified consumption goods and raw materials that can be substituted with domestic products."
The government plans to impose 7.5 percent tax on imports of select products deemed as not strategic for the economy, Indrawati said.
The government will ask state-owned refiner PT Pertamina and electricity producer PT Perusahaan Listrik Negara to review imports of capital goods and the companies will need to postpone infrastructure projects that are yet to tie-up funds, Indrawati said. All requests for capital good imports by these companies will be suspended for the next six months or until the balance of payment is improved, she said.
Indonesia is among a handful of Asian emerging markets that run current-account deficits and data last week showed the shortfall widened to a four-year high in the second quarter. The deficit and a relatively high foreign ownership of government bonds make the economy vulnerable to outflows.
"We hope that our current-account deficit that soared in the second quarter can be reduced significantly by the end of this year," Indrawati said. "We understand that this might affect some sectors, but this is part of the stabilization efforts taken by the government along with Bank Indonesia."
Bank Indonesia, which is scheduled to review its policy rate on Wednesday, still sees stabilizing the rupiah as its priority, Governor Perry Warjiyo said. The central bank will continue with its dual-market intervention to shield the rupiah, he told reporters.
The rupiah is among the worst performers in Asia since the emerging-market selloff began in late January, weakening about 9 percent to its lowest level against the dollar since 2015. The yield on the benchmark 10-year government bonds has rallied about 170 points this year to top 8 percent, while the Jakarta Stock Exchange Composite Index is down 9 percent since the start of the year.
The government is also exploring the option of reducing crude oil imports by as much as 225,000 barrels a day by capping exports of locally produced fuel, Coordinating Minister for Maritime Affairs Luhut Pandjaitan told reporters. Pertamina will buy all the crude oil produced by private explorers, the energy ministry said in a statement. The country currently imports about 400,000 barrels of crude oil per day to meet local demand, official data show.
Coal miners may be allowed to raise production by 25 million metric tons this year and earn an additional $1.5 billion from exports, Energy and Mineral Resources Ministry spokesman Agung Pribadi said in a statement.
"We need to show to the world that Indonesia has good fundamentals and we need to keep communicating this," Indrawati said. "If there is a vulnerability, the government won't hesitate to take fast, firm, corrective actions in order to mitigate such vulnerability."