Erdogan's Apple Boycott Ignores American Tech's Omnipresence
(Bloomberg) -- Turkish President Recep Tayyip Erdogan vowed to boycott American-made electronics, such as those made by Apple Inc., and offered a rather less well-known alternative to the iPhone.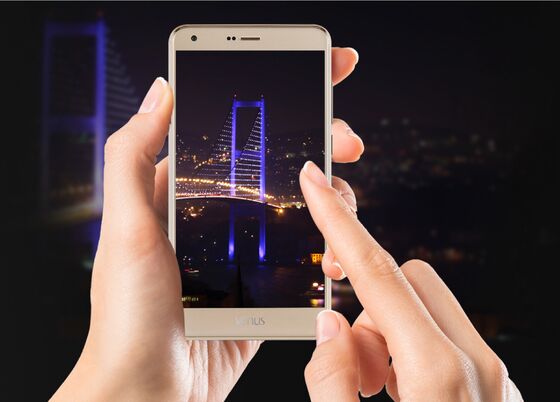 "In Turkey we have Vestel Venus," he said on Tuesday, referring to a series of smartphones that retail in Turkey for between about 650 lira ($99) and 2,500 lira, and are manufactured by Vestel Elektronik Sanayi ve Ticaret AS. The stock rose to a session high.
A challenge for Vestel will be the fact that its devices are built using numerous American-developed components, including chips manufactured by Qualcomm Inc., a major semiconductor company based in San Diego, California, and touchscreen glass created by New York-based Corning Inc.
Alternatives to these components exist, and Vestel uses some of them -- in a number of its phones, for example, chips designed by Taiwan's MediaTek Inc. are used instead of those made by Qualcomm.
Harder to replace is the Android operating system, developed by Alphabet Inc.'s Google, which in addition to powering Vestel's phones also underpin the majority of mobile phones sold worldwide.
In fact, almost all mobile phones will use U.S. hardware or software. Still, Vestel shares rose as much as 9 percent in Istanbul on the news, the steepest intraday climb since June 25, valuing the company at just over $450 million. Apple, meanwhile, recently became the first American company valued at a trillion dollars.
It's safe to say that Vestel's Venus phones -- which look a lot like an early iPhone -- aren't among Apple's global rivals. The product line had a home-market share of 6-7 percent at the end of 2016, according to analysts at HalkInvest. Apple sold over 200 million iPhones in 2017, almost three-times Turkey's population.
If imposed, a country-wide boycott of Apple products would be unprecedented, although it has been floated before: In 2016, prior to his U.S. presidency, Donald Trump called for such a move until Apple Chief Executive Officer Tim Cook honored a court order to unlock a terrorist's iPhone. He later tweeted that he would stop using his personal iPhone if Apple does not relent, which it never did.
Smartphones aren't Vestel's only focus. It sells a wearable fitness tracker, which connects to an app for Apple iOS and Google Android smartphones to sync heart rate measurements and step counts, and deliver message notifications, similar to an Apple Watch. It also makes a set of smart bathroom scales, a range of televisions, and internet-connected air conditioners.