Cash Wildfire Spreads Among Young Tech Companies
(Bloomberg Opinion) -- It's time to get real about the financial fragility of young technology companies. Far too many are living beyond their means, flirting with disaster and putting their investors at risk. 
Bloomberg Opinion examined 150 U.S. technology companies that had gone public since the beginning of 2010 and were still operating independently as of Aug. 10. About 37 percent had negative cash from operations in the prior 12 months, meaning their cash costs exceeded the cash their businesses had generated.
A handful of the companies, including online auto dealer Carvana Co., the mattress e-commerce company Purple Innovation Inc. and health-care software firm NantHealth Inc., were on pace to burn through their cash in less than a year, based on their current pace of cash from operations and reserves in their most recent financial statements.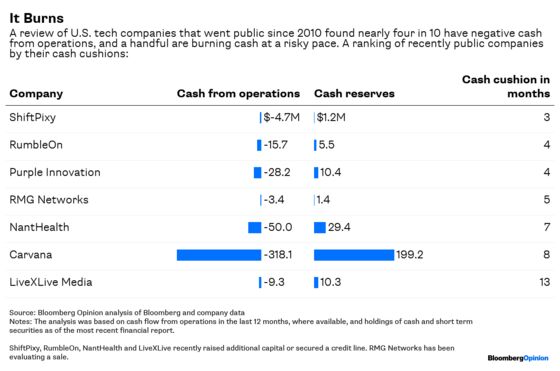 I was surprised at the prevalence of cash-burning tech companies because the conditions weren't so bad in a similar analysis I did more than four years ago. Back then, a much smaller percentage, about 29 percent, of U.S. tech companies that had gone public from 2010 through that point, or had filed paperwork for an IPO, had negative cash flow from operations. And none of those young tech companies were at risk of exhausting their cash within a year based on their rates of cash burn in the 2014 examination.
The companies in the more recent analysis included both seasoned and relatively recent public firms. The big takeaway for me: Young technology companies in aggregate are becoming more brittle during one of the longest bull markets ever for U.S. stocks. This trend is not healthy. Companies that persistently take in less cash than they need to run their businesses risk losing control of their own destinies. They need continual supplies of fresh cash, which could hurt their investors, and the companies may be in a precarious position if they can't access more capital in the event of deteriorating market or business conditions.
It's not unusual for young companies, especially fast-growing tech firms, to burn cash as they grow. But the scope of the companies with negative cash from operations, and the persistence of some of those cash-burning companies for years, was a notable finding from the Bloomberg Opinion analysis.
On one end of the spectrum are the newest public companies, some of which are burning cash at a historically unusual rate. The leading example is Snapchat's parent company, whose cash flow from operations was negative $801 million in the 12 months ended in June, or a cash burn of about 81 cents for each dollar of Snapchat's revenue during that period. Snap Inc. has about $1.6 billion in cash, and the company told analysts this month that it's comfortable with its current cash position. The business software firm Domo Inc. sold more than $190 million in stock in its June IPO, and yet at its pace of cash burn it may need more capital in less than two years, according to Bloomberg Opinion estimates.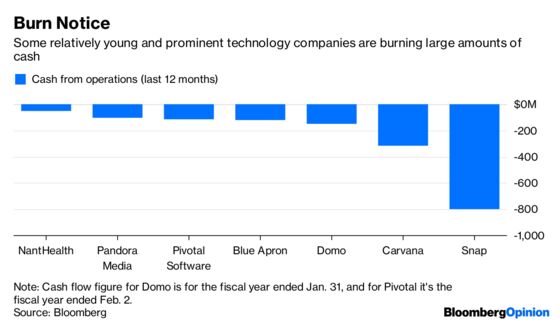 Those companies' cash from operations may improve over time, and they shouldn't have much trouble selling additional stock or borrowing money if they need it. Companies that have persistently negative cash from operations, however, have less room to maneuver. The worst-case scenario is data center technology company Tintri Inc., which filed for bankruptcy protection in July, about 13 months after its initial public offering. The company had negative cash from operations and had about four months worth of cash as of its Jan. 31 fiscal year end. It lasted five months before its bankruptcy filing.
Other tech companies in the Bloomberg Opinion analysis have burned cash for years and supported themselves through repeated stock or bond sales. Digital radio company Pandora Media Inc. has had cumulative annual cash from operations of negative $407 million since its 2011 IPO. Cybersecurity software firm FireEye Inc. has had negative cash flow from operations for 14 of the 20 quarters since it went public five years ago. Both companies' shares trade significantly below the price at which they first sold them to the public.
Companies aren't necessarily in danger if they have negative cash from operations. Even the companies in the Bloomberg Opinion analysis with less than a year of cash reserves at their current pace of cash flow also may be fine.
Executives from Purple Innovation, the mattress firm, recently told investors that the company had built up a unusual amount of inventory in recent quarters and that its cash condition would improve as it depletes that inventory. NantHealth, which is majority owned by billionaire pharmaceutical executive and newspaper owner Patrick Soon-Shiong, said in a recent securities filing that it thought its cash and ability to borrow from "affiliated entities" would be enough to finance the business for at least the next year. The company said last week that it had secured a $100 million line of credit from an affiliated company, NantCapital.
Companies that need to borrow money or sell more stock to offset cash burn risk diluting stock owners' holdings, and a bad stretch of financial results could force them into a fire sale or onerous capital raise. Worse still, the risk from financially weak tech companies is being transferred from controlled private markets where most investors are large institutions to the public stock markets open to all.
The analysis should be a warning as private tech companies of unprecedented size and with unprecedented losses such as WeWork Cos. and Uber Technologies Inc. prepare to go public in coming years. There is a generation of tech companies that have grown up without ever having to stand solely on their own feet. 
This column does not necessarily reflect the opinion of the editorial board or Bloomberg LP and its owners.
Shira Ovide is a Bloomberg Opinion columnist covering technology. She previously was a reporter for the Wall Street Journal.