Here's How Traders May React to the Turkey Crisis: Taking Stock
(Bloomberg) -- S&P futures are off lows and holding in well (only down ~8 handles) when compared to the weakness in Europe, where the Stoxx 600 is off half a percent as the region's banks are getting trounced on Turkey contagion concerns. The Turkish lira continues to weaken since last week, the Turkey ETF (TUR) is poised for a two-day plunge of ~25%, and the VIX has bounced back above 14.
Four U.S. movers to be aware of:
Tesla is flipping from positive to negative to flattish as Wall Street weighs conflicting media reports on potential Saudi involvement in a potential buyout; our story says Saudi Arabia's Public Investment Fund is in talks to be part of any investor pool while Reuters says the PIF has "shown no interest"
Apple looks to be holding up better than its FAANG peers, perhaps helped by news trickling out that Trump hosted CEO Tim Cook for a dinner on Friday
Nielsen soars more than 10% pre-market after the Wall Street Journal reported that activist Elliott Management took a stake of more than 8% in a plan to get the company to sell itself
Bayer ADRs (BAYRY) are indicated down big, with shares of the healthcare & agriculture giant in Germany sinking nearly 13% after newly acquired Monsanto was slammed with $289 million in damages in the first trial over claims that its Roundup weed killer causes cancer
Strategists have mostly been holding their bullish ground, with a good amount staying pat with year-end S&P 500 targets above the January record level. A couple have even supplied near-term bull case scenarios on a few stipulations, for example BTIG's Julian Emanuel last week calling for upside to 3,350 on a trade war ceasefire and now Goldman's David Kostin seeing 3,150 on easing trade tensions, Fed hiking only 2-3 more times, and growth remaining strong.
We're coming off the first down week for the S&P 500 in a month and a half, though the bulk of the pullback occurred Friday (the worst one-day loss in a month) on a spillover effect from Turkey's downward spiraling financial crisis.
The gap down on Friday might suggest a temporary top was put in at ~2,850, a level where even some bulls had expected a bit of near-term resistance before a run to the January record high of 2,873. The situation in Turkey appears to be deteriorating further and it's possible that one of these two scenarios may play out in the near future:
SCENARIO #1: THE MARKET HOLDS UP
Fast money takes the opportunity to buy on the dip while inflows keep pouring into mutual funds and ETFs (as they have been for the past six weeks), allowing U.S. stocks to fare much better than their global counterparts; all else being equal, and no other negative macro shock hits, then there'll likely be a swift reversal that propels the S&P 500 back towards ~2,850 and maybe even to an all-time high a massive round of FOMO starts to kick in. Expect the strongest sectors throughout this bull market (tech, consumer discretionary, financials) to lead the tape higher through the record and beyond.
Sidenote: I feel that this scenario is the one baked in by the Street in the sense that most traders expect the Turkey crisis to blow over, at least in terms of how it might directly impact equities in the U.S. It might still be fresh in the minds of many market participants how stocks completely shrugged off the Turkey jitters earlier this month -- things looked grim on August 2nd, when the e-minis were down more than 20 points partly due to Turkish assets tumbling as a response to the unprecedented sanctions, but things changed on a dime later that morning and a flash reversal sparked a 73-handle rally in four days.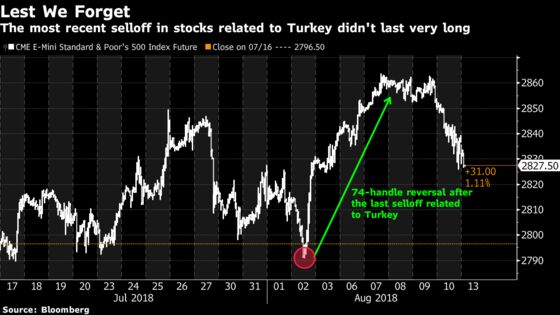 SCENARIO #2: THE MARKET KEEPS FALLING
A confluence of spreading contagion fears, a lack of positive catalysts (or catalysts in general), and a more-illiquid-than-usual market takes the S&P cash index back towards near-term support at ~2,800, a level that has been tested successfully multiple times since last month's breakout. A rotation into the more defensive sectors (utilities, REITs, telecom, consumer staples) will likely play out, especially if we begin to show weakness below the aforementioned support level.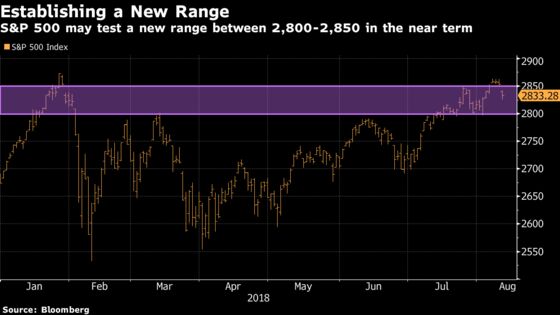 The 13-Fs have started to trickle in ahead of Tuesday's deadline. Very few of the biggest or most influential hedge funds have released their quarterly filings as of yet, but one that has is Third Point. And while most of their changes were reported out in an investor letter last month, one that wasn't (and stuck out to me) was their 2.83 million share stake in a small-cap consumer discretionary company called Camping World Holding.
This makes Third Point the second-largest holder of the RV retailer with ~7.6% of the outstanding shares. This is a stock that has more than halved in the past six months -- the RV sector hasn't been a good one for investors year-to-date, just look at the downturns in peers like Winnebago and Thor Industries -- but what's interesting is that Camping World not only has a giant number of bears betting against it (short interest is at ~38 of float, according to Markit), but it has had a heavy contingent of hedge fund holders well before Dan Loeb came along. Almost a quarter of the stock was held by HFs prior to the Third Point 13-F, with names like Brenner West, Millennium, Waratah, Scopus, Lodge Hill, and Tourbillon all holding significant chunks as of the end of the first quarter.
You better believe we'll be keeping an eye on where this one shows up in the 13-Fs as they hit the wires over the next two days i.e. who sold out, who doubled down, and who else pulled a Third Point and bought in as the shares cratered to record lows.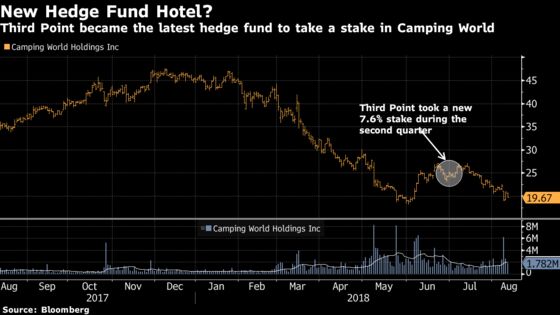 Tesla opining without a whole lot of clarity on what Musk knows continues. The biggest bull on the name, New Street Research's Pierre Ferragu, doesn't expect Tesla to go private as the board is likely to reject Musk's offer or approach; he also devotes a chunk of today's note to remaining legal risks, from the civil liabilities side all the way to the SEC and criminal end ("Can Elon Musk be barred from being a director and officer of a public company? Could Tesla have to pay a material fine or material damages?")
Morgan Stanley's Adam Jonas keeps pumping the idea that SpaceX, which he values at $46 billion in base case and $121 billion in a bull case, may play a crucial role in Tesla going private; he estimates that Musk's stake in SpaceX may be worth more than $15 billion, which is greater than the value of his stake in Tesla. The bank is also out downgrading Goodyear Tire to an equal-weight ("difficult to look past estimate achievability").
JPMorgan's Ann Duignan follows up machinery earnings with a couple of rating changes, upgrading Eaton to an overweight (2019 PT $92) on an acceleration of orders and moving AGCO to an underweight (2019 PT $55) on deteriorating fundamentals in European agriculture, especially in the German wheat market. She separately published on Deere ahead of Friday's earnings, expecting a solid print given recent industry data.
Tick-by-Tick Guide to Today's Actionable Events
Today -- IPO lockup expiry: BLNK, BFRA, MOTS
Today -- OPEC issues monthly oil market report
8:00am -- SYY earnings
10:00am -- SYY earnings call
11:00am -- TWLO at Keybank Technology Leadership Forum
1:40pm -- DATA at Keybank Technology Leadership Forum
2:00pm -- Congressional Budget Office releases "An Update to the Economic Outlook"
2:30pm -- Trump scheduled to make remarks at signing ceremony for National Defense Authorization Act
3:30pm -- DBX at Keybank Technology Leadership Forum
3:40pm -- KLAC at Keybank Technology Leadership Forum
4:05pm -- VIPS, VERI earnings
4:15pm -- SWCH, MFIN earnings
5:05pm -- EQH earnings (roughly)
5:20pm -- FEYE at Keybank Technology Leadership Forum
5:30pm -- HUYA earnings
6:00pm -- YY earnings (roughly)
8:00pm -- HUYA earnings call
10:00pm -- China Industrial Production, Retail Sales, Fixed Assets