Roku's Biggest Bull Sees Already-Soaring Stock Going Even Higher
(Bloomberg) -- Roku Inc.'s rally may just be getting started after the stock jumped 23 percent on better-than-expected earnings. The stock could climb to $67 a share, according to one analyst's updated predictions.
Keybanc analyst Evan Wingren boosted his price target to a street-high of $67, or 42 percent higher to where the shares closed Wednesday. Wingren cites Roku's operating system, data-driven advertising platform and The Roku Channel as areas ripe for growth.
On Wednesday, Roku announced the rollout of The Roku Channel, a free streaming service, to the web. The expansion of the channel has the potential to be transformative in the long term and its prior use on the Roku platform likely contributed materially to revenue growth, Wingren wrote in a note.
Also, Morgan Stanley's Benjamin Swinburne raised his price target to $45 from $38 but retains an equal-weight rating on Roku, writing that the current valuation "reflects a lot already."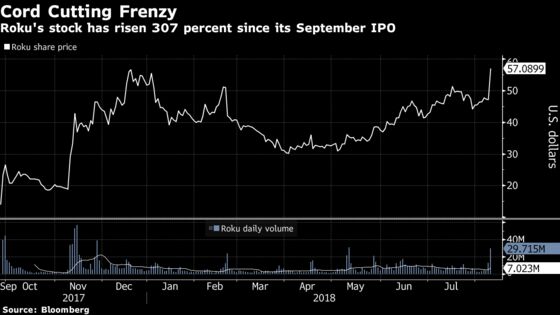 Since going public last year, Roku has rocketed more than 300 percent. Most of that gain happened in the first three months since the initial public offering in September. So far this year, shares have risen another 10 percent.
Analysts are positive on the tech company with not one rating it a sell, according to Bloomberg data. Of the 11 analysts Bloomberg tracks, Roku has six buys and five holds with an average price target of $54.