Deutsche Telekom Raises Forecast on Back of Growth in U.S.
(Bloomberg) -- Deutsche Telekom AG forecast higher full-year earnings bolstered by growth in the U.S., underscoring that the planned $26.5 billion deal for its T-Mobile US Inc. unit to buy Sprint Corp. is vital for the German carrier.
Deutsche Telekom is defending leading positions in Germany and elsewhere in Europe, where growth is harder to come by -- especially as rival Vodafone Group Plc is bolstering its portfolio with some of Liberty Global Plc's units. Deutsche Telekom said more customers are selecting two or more of its services in bundles, which increases loyalty as well as phone bills.
"The trends in Germany and the United States are positive," Chief Financial Officer Thomas Dannenfeldt said in a statement. "At our European subsidiaries, we are again posting sustained growth."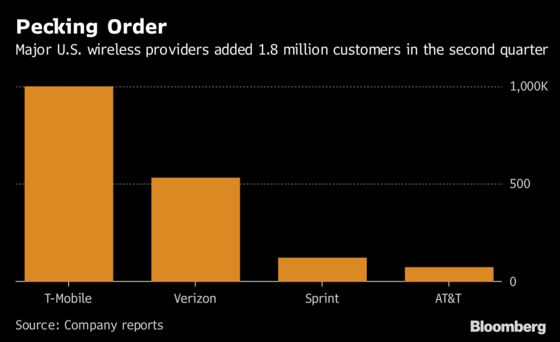 The challenge in Germany, where Deutsche Telekom is building fiber lines, is to win wireless and business clients in the face of competition from the combined challenge from Vodafone and Liberty Global, as well as Telefonica SA and United Internet AG, which is emerging as a fourth large local carrier.
The stock advanced 0.2 percent to 14.33 euros at 9:32 a.m. in Frankfurt, compared with a 0.8 percent decline in the STOXX Europe 600 Telecommunications index.
While Deutsche Telekom lost mobile contract customers in Germany compared to the previous quarter, reflecting increased competition, it gained broadband and TV subscribers. And mobile service revenues -- a key factor indicating how profitable its wireless contracts can be -- rose 2.9 percent from a year earlier.
Its strategy in Europe is to offer wireless, landline and TV services in a bundle called "MagentaEins," a product that binds customers and helps the company sell additional services including smart-home gadgets and cyber-security software. At the end of the quarter, Deutsche Telekom had 3.9 million MagentaEins customers in Germany, about half a million more than a year earlier.
In the U.S., the company is eagerly awaiting approval of its megamerger. While executives from T-Mobile and Sprint have tried to lobby in favor of the stock swap, the regulatory review is only just getting under way and opponents concerned about higher consumer prices for service have until Aug. 27 to file objections to the Federal Communications Commission.
It's not the only deal where the Germans risk rejection. Deutsche Telekom also wants approval for the acquisition of Tele2 AB's business in the Netherlands. European regulators last month green-lighted Deutsche Telekom's 1.9 billion-euro-purchase of Liberty's Austrian cable division, boosting the former phone monopoly's strategy to offer both mobile and landline services there as well.
Deutsche Telekom increased its full-year forecast for adjusted earnings before interest, taxes, depreciation and amortization by 100 million euros ($116 million) to about 23.4 billion euros after T-Mobile posted industry-leading subscriber gains in the second quarter and $176 million in net income, as analysts had predicted a loss.