Dragon Ball Fighting Game Vaults Bandai Namco Onto Esports Stage
(Bloomberg) -- Here comes a new challenger to the esports arena.
Bandai Namco Holdings Inc. broke the all-time Twitch streaming record for the biggest fighting game tournament this year with Dragon Ball FighterZ (or DBFZ for short), trouncing long-standing favorites such as Capcom Co.'s Street Fighter or Nintendo Co.'s Super Smash Bros., according to GitHyp, which compiles streaming data. The game, released in January and based on the global mega-hit anime series, has sold over 2.5 million copies and there is no sign of it slowing down after its debut at this week's Evolution Championship Series tournament in Las Vegas.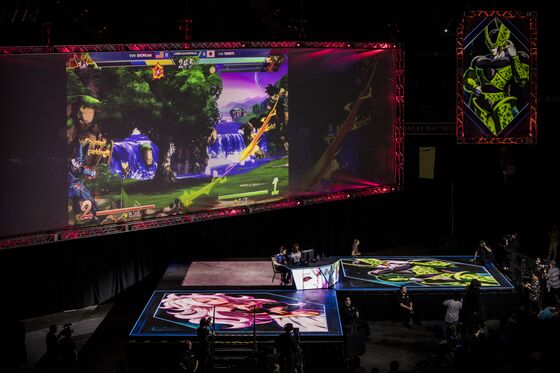 "It's certainly a first for Bandai Namco. If they can ride on DBFZ's current success, they can milk it for years," said Serkan Toto, founder of Tokyo-based games consultancy Kantan Games Inc. "They sit on the intellectual property, which will keep the game unique against competition."
Up until now, Bandai Namco has been mostly absent from esports tournaments. Worldwide esports revenue including media rights, advertising, ticket sales, and merchandising will reach about $5 billion annually by 2020, almost as much as the world's biggest soccer league today, according to market researcher Activate. Getting a slice of the esports pie has been an elusive goal for game makers, as titles that are designed for competition aren't guaranteed to find a dedicated fanbase and can fizzle out in months.
Besides the pull of the Dragon Ball name, DBFZ has received praise from the industry as a solid fighting game built from scratch to become an esport title, according to Toto. The game boasts an 87 percent rating on Metacritic, putting it in the top 30 games of 2018.
Bandai Namco derives most of its profit from producing games, toys and candy based on Japanese anime and TV shows, ranging from Dragon Ball to Super Sentai and One Piece. Sales from Dragon Ball-related products topped 25.6 billion yen ($230 million) in the quarter ended June, the biggest of any property in their portfolio.
"DBFZ already has a community, but it will depend on Bandai Namco how it nurtures it with further updates, new characters, community support," Toto said. "Do they have the know-how to further cultivate the game and the community?"