Activision Sells 2 More Franchises for Overwatch Esports League
(Bloomberg) -- Activision Blizzard Inc. sold two more franchises to its live-action Overwatch videogame league, adding Cox Enterprises to the list of owners of the year-old esports business.
Cox, the owner of the Atlanta Journal-Constitution newspaper and other media businesses, acquired the Atlanta franchise, while Nenking Group, a Chinese financial and entertainment conglomerate, bought the franchise for Guangzhou, China. The newest franchises are going for at least 50 percent more than the original ones that fetched about $20 million, according to a person with knowledge of the matter.
Esports, in which professional contestants play video games in front of live and online audiences, has been a fast-growing new market. The Overwatch League, based on Activision's cartoonish shooting game of the same name, ended its first season last weekend with a victory by the London Spitfire.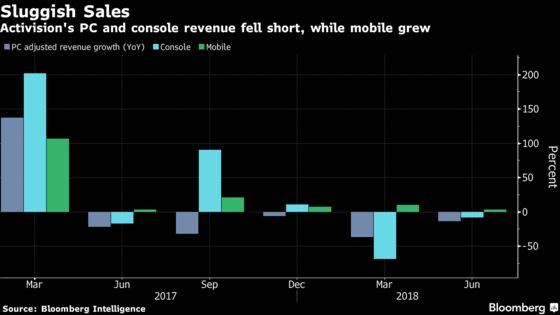 Separately, Activision reported second-quarter earnings, excluding some items, rose to 41 cents a share, beating analysts's estimates of 35 cents. Revenue, also reported on an adjusted basis, totaled $1.39 billion and was in line with projections. The company cited ongoing play and purchases for core franchises such as Call of Duty and Candy Crush.
Stay Updated With
Tech News
On BloombergQuint