EDF Raises Low End of 2018 Profit Target as Earnings Climb
(Bloomberg) -- Electricite de France SA raised the low end of its full-year earnings target as first-half profit jumped 18 percent, driven by its highest hydropower production in 15 years and a resurgence in nuclear output.
The result shows a partial recovery from last year's earnings slump, which followed lengthy shutdowns at some of EDF's French nuclear reactors. The utility continues to face rising competition for electricity distribution in its domestic market, while its hedging policy has capped gains from this year's rally in power prices.
"The half-year results confirm the rebound announced for 2018, thanks to a solid operational performance and to the continuation of the cost reduction efforts," Chief Executive Officer Jean-Bernard Levy said in a statement. He added that the company's earnings had been "supported by favorable hydrological conditions".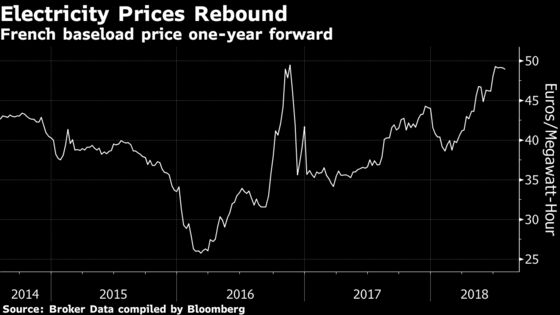 First-half earnings before interest, taxes, depreciation and amortization rose to 8.23 billion euros ($9.64 billion) from 7 billion euros a year earlier, the Paris-based company said Tuesday in the statement. Net income excluding one-time items climbed 27 percent.
EDF released "very strong results," Vincent Ayral, an analyst at JPMorgan Chase & Co., wrote in a note. "The consensus for 2018 Ebitda of 15 billion euros is likely to be revised upwards in the coming weeks or months."
Shares in the utility rose as much as 3.7 percent and were trading up 2.1 percent at 12.68 euros at 9:27 a.m. in Paris.
A slump in power prices that began in 2015 forced EDF to sell 10 billion euros of assets by 2020 as well as new shares last year to fund maintenance for aging nuclear plants. It also needed cash for new reactors in the U.K. and France, where it recently raised the budget for its Flamanville project.
EDF announced in June the sale of its 65 percent stake in a liquefied natural gas import terminal in northern France and of a 49 percent stake in 24 of its U.K. wind farms. The disposal plan will be completed before year-end, EDF said Tuesday.
The company's full-year Ebitda will rise to between 14.8 billion euros and 15.3 billion euros in 2018, after sinking 15 percent last year. The low end of the target is 200 million higher than EDF's previous forecast.
While EDF has earmarked 48 billion euros from 2014 to 2025 to extend the life of its French atomic plants, and is trying to convince President Emmanuel Macron to agree to new reactors, Ecology Minister Nicolas Hulot plans to reduce the country's reliance on nuclear power and to boost spending on renewables.