Spotify's Position as Tech's Hottest 2018 Listing Is on the Line
(Bloomberg) -- Is Spotify the music industry's Netflix, or will it track Dish Network?
Expectations are high for the company's second quarter earnings report on July 26, and Wall Street is looking for signs it can drive the next leg of performance. Like its movie-streaming peer, investors focus heavily on subscriptions as a prime metric for valuing the strength of the platform.
Shares are up about 40 percent since its April debut, compared to a 28 percent jump for Netflix and a 21 percent slump for old-school cable company Dish.
BTIG expects Spotify to report 83 million subscribers for the quarter, close to the consensus estimate of 82.4 million. Analyst Richard Greenfield recently initiated a buy on the stock with a Street-high price target of $230. Spotify's biggest bull was slow to join the game as he admitted that "waiting for a better entry point into the stock has not worked." The platform is simply too powerful to wait any longer, he wrote in a note July 23.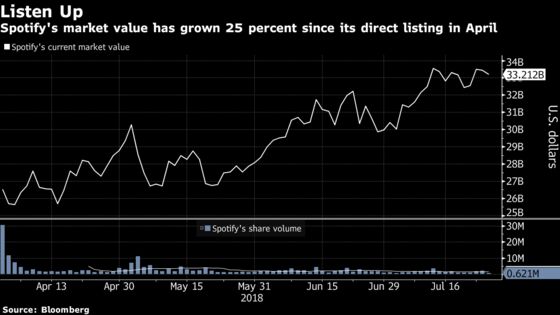 Analysts will also be watching monthly active users (MAUs), subscription promotions, distribution deals, content initiatives, advertising strategies and the increasing competition from the likes of YouTube Music, Apple Music and Tidal.
MAUs should hit 178.5 million, according to data compiled by Bloomberg of at least five estimates.
Raymond James analyst Justin Patterson is among the bulls, saying "subscription music is still in its early innings." New territories, market share gains and the proliferation of connected speakers and cars should help support the growth story, he said.
Detractors on Spotify include Pivotal Research Group, which was the first firmto downgrade the stock to hold from buy since the direct listing. Analyst Jeffrey Wlodarczak said he sees interest "slowing materially" and believes Apple Music likely surpassed the Swedish music platform in the number of U.S. premium subscribers.
In mid-June, SunTrust began signaling some deceleration in U.S. total listening hours.