Spain's Top Utility Becomes Bigger in Mexico Than in Home Market
(Bloomberg) -- Iberdrola SA is set to produce more electricity in Mexico than Spain for the first time in 2018 following years of aggressive investments in the Americas.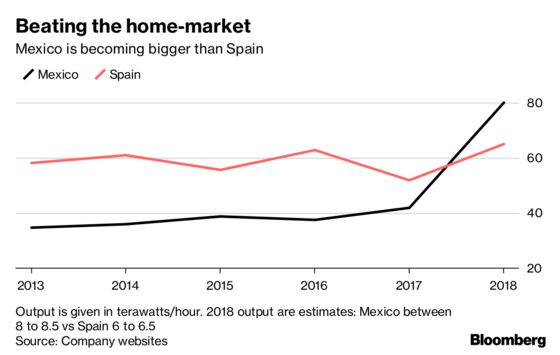 The milestone marks another step in Chief Executive Officer Ignacio Galan's effort to expand Iberdrola beyond its home market in Spain, building power networks and generation plants. The expansion drive has turned the company into the largest private electricity producer in Mexico, trailing only the state-owned utility Comisión Federal de Electricidad. It also has more customers in Brazil than any other non-state power company and is the No. 3 network operator in Britain through its Scottish Power Ltd. unit.
"This year we are going to produce more electricity in Mexico than in Spain, which gives you an idea of the size of the business we have there," Galan said in an interview in Madrid. "This year we are probably going to make around 80, 85 terawatt-hours in Mexico, and in Spain it's going to be in the range of 60, 65. It is very important."
Demand in Mexico has been surging in recent years due to a combination of increased demand from the industrial sector and as a result of an energy reform in 2013 that liberalized generation and commercialization of electricity. While Iberdrola sells 76 percent of its electricity to state-owned power company CFE, since the reform it can also sell to industrial groups.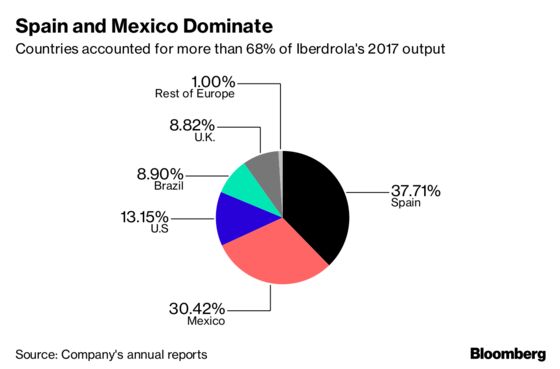 Iberdrola has 6,000 megawatts of installed capacity in Mexico through 17 combined cycle and co-generation natural gas plants, with four more of those plants under construction, according to the company's Mexican website. The company has an additional 365 megawatts in wind farms. It's building another 325 megawatts of wind-farm capacity and 270 megawatts of photovoltaics.