Hundreds Missing, Some Dead as Laos Hydropower Dam Collapses
(Bloomberg) -- Hundreds of people are missing and several are dead after a dam at a $1 billion hydroelectric plant being built in Laos collapsed, the country's state news agency said.
The dam in the southern part of the Southeast Asian nation collapsed at 8 p.m. local time Monday, releasing 5 billion cubic meters of water, the KPL agency said in a report. Flash flooding swept across six villages and more than 6,600 people are homeless, KPL added.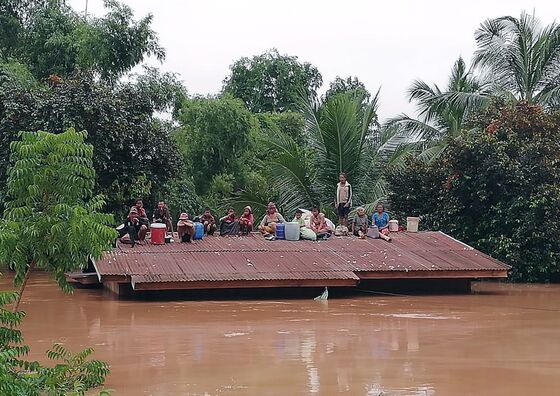 The power plant, Xe-Pian Xe-Namnoy, is a joint venture between Thailand's Ratchaburi Electricity Generating Holding Pcl, SK Engineering & Construction Co., Korea Western Power Co. and the Laos government.
Ratchaburi has a 25 percent stake in the project and Lao Holding State Enterprise 24 percent, with the South Korean companies dividing the rest of the ownership, according to the project website.
Commercial operations are due to begin by 2019. The project is one of a number seeking to tap the country's hydropower potential, an engine of economic growth Laos relies on to help reduce poverty.
Ratchaburi fell 1.4 percent in Bangkok on Tuesday, more than the 0.1 percent drop in Thailand's benchmark SET index.
The Thai firm said the dam being built to help divert water around a reservoir fractured and collapsed due to a continuous rainstorm. The overall project is about 90 percent complete, according to the statement from the company.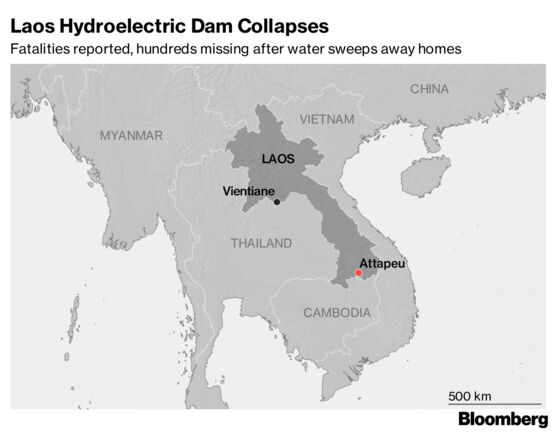 SK Engineering officials didn't answer phone calls seeking comment. Calls to the Laos company overseeing the project went unanswered.
SK Engineering has formed a crisis management team, and senior officials are heading to Laos to support rescue operations and check whether the dam failed or water swept over it, the Yonhap news agency reported.
The hydroelectric plant is located on the Bolaven plateau, approximately 550 kilometers (342 miles) southeast of Vientiane, the capital city of Laos.
Some 70 percent of the financing structure is debt and the rest is equity, the project website shows. The Thai lenders comprise Krung Thai Bank Pcl, Bank of Ayudhya Pcl, Export-Import Bank of Thailand and Thanachart Bank Pcl.
The 410 megawatt plant is due to operate under a 27-year concession and export 90 percent of its electricity to the Electricity Generating Authority of Thailand, with the rest sold locally.