350 Million Diners Fuel Battle for China's Food Delivery Crown
(Bloomberg) -- Alibaba Group Holding Ltd.'s food delivery platform Ele.me plans to spend 3 billion yuan ($443 million) this quarter trying to wrest customers from Meituan Dianping.
Ele.me wants to command more than half of all food delivery transactions in China over the short- to medium-term, according to Chief Executive Officer Wang Lei, who took the reins after Alibaba acquired the startup this year. He wouldn't provide a more specific timeframe nor estimate his company's market share.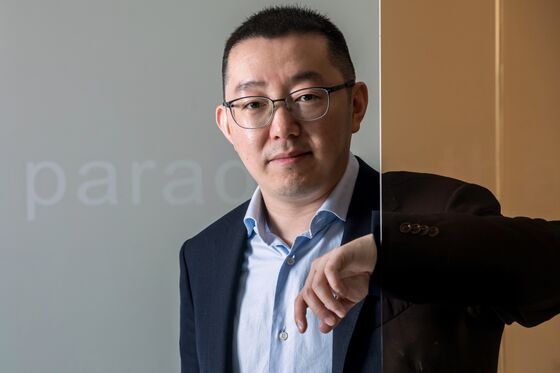 Ele.me is in the throes of what it dubs a "summer battle" against Meituan, the on-demand services goliath backed by Tencent Holdings Ltd. that's prepping an initial public offering in Hong Kong. To that end, it's been doling out subsidies to consumers, merchants and delivery partners since July, a campaign it plans to revive during the winter, Wang said. Ele.me's also syncing its logistics data with Alibaba's, so units and affiliates of the e-commerce giant can benefit from its own network of at least 400,000 delivery personnel daily.
"Ele.me is very important for Alibaba's new retail strategy, it's a foundation for the business," Wang said during an interview in Hong Kong. "Dining and food delivery is also a service that users will use frequently, hence benefiting our payments business."
The market for on-demand services in China is surging as people turn to their smartphones to order meals, schedule beauty treatments and hire helpers. But that's prompting the likes of Ele.me to splurge on discounts and subsidies. Meituan itself revealed huge losses -- but also a scorching pace of growth -- when it filed for its much-anticipated debut.
That spending has helped. Meituan's share of Chinese on-demand transactions reached 59 percent in the first quarter, from around 32 percent three years prior, the company said in an emailed statement that cited estimates by consultancy iResearch.
Ele.me is said to be seeking funding of at least $2 billion to bankroll its costly battle against Meituan, the world's third-largest startup. It's now owned by Alibaba and co-founder Jack Ma's Ant Financial without any other investors, Wang said. The startup was valued at $9.5 billion in Alibaba's acquisition.
The company is counting on the Chinese food delivery industry to grow transactions at a pace of at least 60 percent annually in the run-up to 2020, Wang said. By his estimates, China has about eight million restaurants that can be enlisted by food delivery platforms, but only about a fourth have connected to the internet.
"We hold an open attitude when it comes to investment," said Wang, declining to comment on whether Ele.me was raising funds. "If there were to be external investors, it's not about how much money they'll give, but more about whether there's strategic synergies."
Ele.me makes most of its revenue through commissions from restaurants and merchants, though Wang said the industry is still in its early phases and monetization wasn't a priority for now. The company hosts two million active merchants on its platform, about half of that of Meituan's. The startup estimates that Chinese consumers placed 10 billion orders for food deliveries last year.
Ele.me's own app has 50 million monthly active users, although that doesn't include customers referred by affiliates such as Ant's Alipay and Alibaba's Taobao, the online bazaar. Meituan had more than 300 million annual active buyers and its platforms combined handled $57 billion of transactions last year.
Ele.me operates separately from Alibaba's in-house on-demand services platform Koubei, Wang said. The two focus on separate fields and complement each other in operation: Ele.me continues to strengthen its presence in food delivery while Koubei is working with restaurants on improving their dining experience, helping users to order and pay for meals via apps.