Netflix Bull Battles Bear in Debate Over Cash Burn, Competition
(Bloomberg) -- Two of the most contrarian points of view on Netflix came together today to debate their theses, just one week after the shares reversed almost 10 percent following a disappointing earnings report.
See below for extracts from the hour-long conversation between BTIG analyst Richard Greenfield, a staunch bull, and Wedbush analyst Michael Pachter, a long-term bear. Click here to see the full TOPLive debate.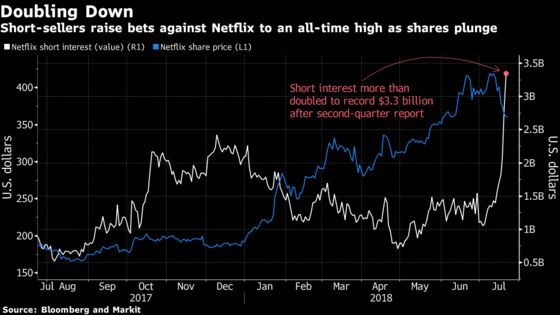 On each analyst's main thesis
Greenfield's view is honed in on the company's global opportunity, where "it's still early days," noting that India alone could end up being a bigger market than the U.S. He also cites the potential for margin expansion from the globalization of content e.g. "Fauda" and "Money Heist," and significant pricing power over time. Greenfield boosted his price target to $420 after Netflix reported earnings last week.
Pachter is one of only four analysts, out of a total 45 that cover the stock, with an equivalent sell rating. He says cash flow is the best indicator of a company's financial health, and in Netflix's case, "is increasingly negative with no end in sight." He also takes issue with the stock's valuation, which isn't justified without doubling prices and the subscriber base, which is unlikely -- "If we're wrong, we'll throw in the towel." Pachter's price target of $125 implies ~65% downside to where the stock is currently trading.
On subscriber growth and cash burn concerns
Greenfield notes that the last couple of subscriber growth misses were followed by big beats, so he sees no changes to the company's growth potential: "Global sub growth has not yet peaked in our opinion."
He says that looking at a global roll-up of free cash flow "is a mistake that short sellers in Netflix have made" for years. He adds that if you stayed away from every stock that invested aggressively in the near-term to create long-term advantages, "you would miss a lot of great stocks."
Pachter says slowing subscriber trends makes the bull case more questionable. While he agrees that global subscribers aren't close to a ceiling, he believes that Richard is overstating the opportunity in India.
On Netflix's biggest competition
Pachter says Disney poses an existential threat, adding that if they can convince other Hulu owners to band together and lock Netflix out, the combination would represent up to 70 percent of the box office and at least 50 percent of television hours: "That's a pretty powerful void that Netflix will have to fill with its own content." He sees a pricing tier structure that would require a core Hulu subscription, "so everyone will profit because Hulu will supplant Netflix as the go-to streaming service."
Greenfield says there is no clear competitor to Netflix given the combination of its content and UI/UX platform that consumers love, and the fact that most of the big companies have competing interests. Additionally, he says the world is shifting to streaming and Netflix is "the market leader in a category that remains in its infancy."
Greenfield says the company may take a more conservative view on price increases as they are trying to grab market share now. He doesn't forecast a hike again until 2019.
Pachter agrees that Netflix is due for another price increase in 2019 given recent history. He calls tier pricing a joke: "One can see from ARPU that they get very little traction from tiered pricing."
On the stock's risk/reward for the next 3 months
Greenfield acknowledges that Netflix has never been for the faint of heart given the magnitude of the beats and misses, but fundamental trends driving growth are unchanged. "Most importantly, our true north star on the stock remains watch time, which continues to scale globally per subscriber."
Pachter sees potential for shares to rally on the next earnings release assuming the World Cup was a slight drag on growth and guidance is realistic. But when subscriber growth stalls, the fundamentals collapse, and that will likely happen 6-12 months after Disney launches a competitor, not before.
He admits that he "has never been right about this stock," but he did preview the timing of content releases as a risk ahead of earnings. He adds, "FWIW, I was wrong about Circuit City and RadioShack (sells on both) until I wasn't. I'm always early."
On where they stand on the FAANGs
Greenfield's take is that platforms rule -- "the platforms are literally eating legacy media alive" -- and says he loves Netflix's stock and just launched coverage on Spotify with a buy this morning on the view that it is a platform that can go well beyond music.
Pachter says the FAANG stocks that are most overvalued relative to cash flow are Amazon and Netflix while the others are undervalued. He says both Amazon and Netflix have virtually unlimited growth potential, however the difference is that Netflix relies on other people's content to thrive.