Rogers Earnings Beat Estimates as Wireless Customers Surge
(Bloomberg) -- Rogers Communications Inc. beat analysts' earnings estimates, posting the biggest second-quarter gain in wireless customers in nine years as Canada's mobile market continues to surge.
The Toronto-based company added 122,000 post-paid net additions while reducing its churn rate, or the percentage of people relinquishing contracts, to 1.01 percent from 1.05 percent, also its lowest in nine years. Average billings per user (ABPU), monthly revenue earned from each wireless customer, increased 4 percent.
"We're taking our fair share of subscribers in a growing market," Chief Financial Officer Anthony Staffieri said during the earnings call on Thursday.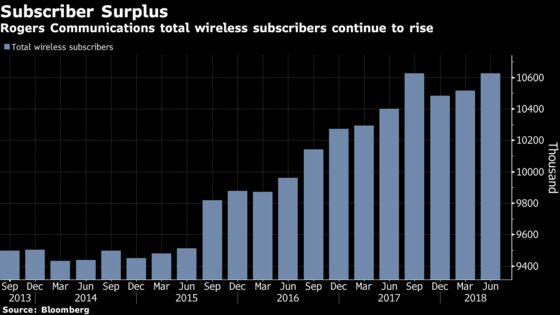 The decline in churn brings it close to Telus Corp.'s rate, which typically hovers below one percent and it has long-been touted as the lowest in the industry.
Profit, excluding some costs, was C$1.07 a share, surpassing the average analyst estimate of C$1.05, according to data compiled by Bloomberg. Revenue jumped 3.8 percent to C$3.76 billion ($2.84 billion) from the same period a year ago, bolstered by a 6.6 percent increase from wireless services, a 1.5 percent increase from cable and 10 percent from Internet.
Even as cable increased on strong Internet revenue, television declined 2 percent as customers continue to cut cords on traditional services, opting instead for streaming. The bleeding slowed though to a loss of 9,000 users from a 25,000-loss in the second quarter last year.
The improvement comes from bundling services together with phone and Internet and "focusing on the whole home," Chief Executive Officer Joe Natale said on the call. "We believe that winning in the home matters most, rather than just spiking the quarter with Internet-only subscribers."