Musk Labels U.K. Diver as Pedophile in Spat Over Thai Rescue
(Bloomberg) -- Elon Musk's controversial tweets reached a new level when he called a British cave explorer a pedophile after the man criticized the billionaire's effort to help rescue 12 boys from a Thai cave last week.
Musk's now-deleted post on Twitter adds to a long list of news-making tweets by the Tesla Inc. chairman, who unlike most executives doesn't hesitate to battle publicly with his detractors. He's used the social network to promote his companies, spar with short sellers who are betting against Tesla shares and needle journalists who question the businesses' prospects. Musk has 22.3 million followers on Twitter.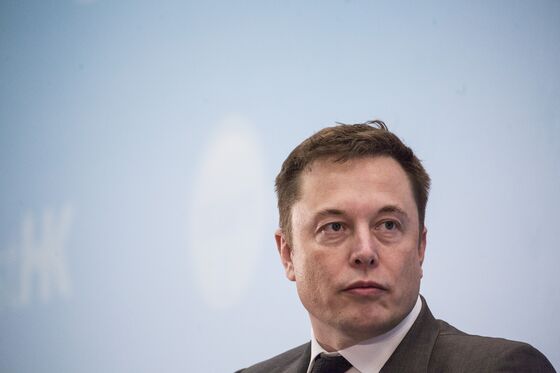 The billionaire offered a "kid-size submarine" to help rescue the boys and their coach after they became trapped in a cave in northern Thailand. A Thai official said the equipment, built by Musk's Space Exploration Technologies Corp., wasn't practical and it wasn't used. Musk traveled to the site in Chiang Rai province, but the team was rescued by Thai divers with aid from an international group of volunteers.
Over the weekend, Musk fired back in a series of tweets, without specifically naming Unsworth. The Tesla boss said he hadn't seen "this British expat guy" in the caves during the rescue, only Thai military divers. Musk also said he would make a video to prove that the mini-sub could have helped in the rescue. "Sorry pedo guy, you really did ask for it," he wrote.
Unsworth, asked about the tweets in a television interview, declined to say what he thought of Musk's comments. "I'm not going to make any further comment about him, but I think people realize what sort of guy he is," he said. "It's not finished."