Hydro One Shakeup Sparks Four Downgrades on Overhang Angst
(Bloomberg) -- Hydro One Ltd. is facing a long-term share overhang after new Ontario Premier Doug Ford fulfilled an election promise to oust the utility's chief executive offer and board of directors, analysts say.
CEO Mayo Schmidt, dubbed the "six-million-dollar man" by Ford during the election campaign because of his compensation, will retire and the entire board will resign following an agreement with the province, the company said Wednesday. The stock fell as much as 7.9 percent to a record low in early Thursday trading.
The move prompted four analyst downgrades, with a Laurentian Bank analyst writing "we did not expect this magnitude of change at once." Analysts also questioned what the move would mean for Hydro One's pending $3.4 billion acquisition of Avista Corp. But others defended the utility, saying investors should add to positions with the stock trading near all-time lows and fundamentals looking solid.
Here's what analysts are saying about the development: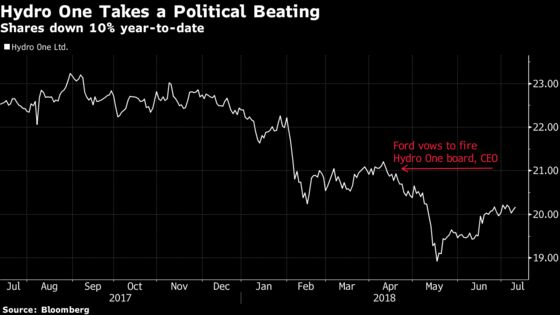 Credit Suisse (Andrew Kuske)
"We believe H's shares will de-rate and suffer from a potentially long-term 'Ontario overhang."'
Kuske notes that the provincial government doesn't technically have the authority to remove Hydro One's CEO, but "such protections can really only be relied upon if one is willing to fight what can be rather unpleasant battles at times."
On the plus side, "Hydro One's attractive asset base has a reasonable amount of embedded growth with potential upside from incentive regulation."
Downgrades the stock to neutral from outperform, price target unchanged at C$22.
RBC Capital Markets (Robert Kwan)
Says the Ontario government's move to replace Hydro One's board "creates a great amount of uncertainty and headline risk that we do not expect to be resolved in short order."
Questions whether the utility will be able to attract a suitable CEO candidate given Ford's focus on compensation; whether other members of the senior leadership team will follow Schmidt out the door; and whether this is a sign that the government will "meddle with the Ontario utility market."
Downgrades to sector perform from outperform, cuts price target to C$21 from C$25.
Industrial Alliance (Jeremy Rosenfield)
The Ontario government is "shooting itself in the foot," as "uncertainty is likely to negatively impact sentiment over the near term; the government appears to have (at least temporarily) impaired the value of its ownership interest."
Political interference could negatively impact Hydro One's pending acquisition of Avista Corp., "either by necessitating further guarantees to secure regulatory approvals, or in an extreme case, leading to regulatory denial of the transaction. At a minimum, the transaction could be delayed."
Downgrades to hold from buy, cuts price target to C$24 from C$26.
Raymond James (Frederic Bastien)
Defends his constructive stance on the stock, advising investors "to look beyond the noise and capitalize on the opportunity to add to positions near all-time lows in a company with solid long-term fundamentals."
"With the nomination of a new board expected to be completed by mid-August, a cloud will likely hang over the stock in the near-term. However, we continue to highlight Hydro One's above average earnings growth and attractive opportunity set going forward."
Maintains outperform rating, price target at C$24.
Laurentian Bank (Mona Nazir)
"While the recent Ontario election signaled that a board shakeup and eventual replacement of the CEO could come, we did not expect this magnitude of change at once."
Says recent events "are more than illustrative that the separation between state (government) and business simply does not exist."
"Given the government's open and public criticism of the company and a potential ceiling on compensation, it may be challenging to attract top talent to the position."
Downgrades to hold from buy, cuts price target to C$21 from C$24.