Utilities Pooling Cash for $130 Million Clean Technology Fund
(Bloomberg) -- Utility giants including Innogy SE and Duke Energy Corp. are among the anchor investors in a new $130 million fund raised by Silicon Valley venture capital firm the Westly Group.
Other investors include energy companies CLP Holdings Ltd., American Electric Power Co., Chubu Electric Power Co. and tire-maker Bridgestone Corp., said Steve Westly, founder and managing partner of the Westly Group. The fund will invest $3 million to $5 million in startups working on clean technology innovations in energy, buildings and transportation, he said.
"This is an enormous opportunity," Westly said in an interview. "It's a global revolution and it's something that won't be put back in the bottle and we're at the cutting edge of it."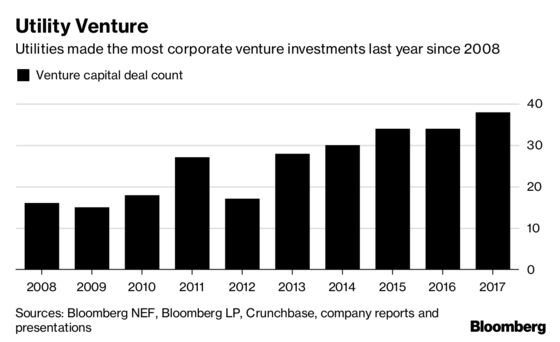 The announcement comes as utilities across the globe are grappling with an accelerating shift toward renewable energy from fossil-fuel sources of power. They have been using venture capital investments as way to dip their toes into emerging energy trends such as electric vehicle charging and digital controls for the grid. Last year, utilities made the most venture capital deals since at least 2008, according to Bloomberg New Energy Finance.