Everything Is Lighting Up Green to Start the Week: Taking Stock
(Bloomberg) -- We're picking up where we left off last week, with S&P futures pointing higher again (up ~10 handles to 2,773) as the second trading session since the onset of the trade war with China gets underway.
A massive bounce in China stocks (SHCOMP +2.5% for its largest gain in over two years) and another gain for Europe markets (even with Theresa May's new Brexit crisis) seems to be overshadowing the setback on the North Korea front (a "regretful" visit by Pompeo which featured "gangster-like" demands from the U.S., according to a 1,200-word statement from Kim Jong Un's media outlet) and any jitters tied to Trump's Supreme Court pick -- odds are favoring Kavanaugh, though Barrett has picked up steam overnight followed by Hardiman, according to PredictIt.
It's fairly quiet otherwise, though attention was paid to Xiaomi's lackluster debut overnight (shares tumbled as much as 6% in Hong Kong after pricing at the bottom of its IPO range) and some wary tariff commentary from Kobe Steel in regards to the impact on Japanese carmakers. Within that sector, Nissan slipped almost 5% after inspection reports showed falsified exhaust emission and fuel-economy data at five factories.
We probably didn't learn a whole lot about this market over the past three-and-a-half trading sessions.
While we ended the holiday-shortened week in a position of strength -- S&P 500 up 1.5% to start the quarter while the Russell 2000 bounced >3%, in spitting distance of the record -- with a resounding applause to a jobs report that drowned out concerns from the U.S.-China trade war going into effect ("It may simply be too soon to see tariff impacts; or it is possible that robust economic conditions, which are further bolstered by tax cuts, are simply impervious to the sanctions put in place to date," according to Bloomberg Economics), overall volumes were the most anemic we've seen for the year and the corporate news flow remained sparse, save for specks involving Tesla, Biogen, Wynn, VMware/Dell, and the semiconductors.
The next week and change should be much more telling as trading desks get replenished, liquidity returns, and earnings get underway -- PepsiCo tomorrow, the industrial distributors Fastenal and MSC Industrial on Wednesday, Delta on Thursday (the Street expects a cut to 2018 forecast, more on this below), and the banks on Friday -- and we should get a better read on whether the SPX is headed for a break above ~2,800 resistance, and a test of its all-time high of 2,873 from January, or back towards its 200-day moving average of 2,674.
Our own Gina Martin Adams expects a "stellar" second-quarter earnings season to show little impact from the trade skirmishes: "Commodity sectors are likely to steal the show, while financials may awkwardly stand out on slow sales growth."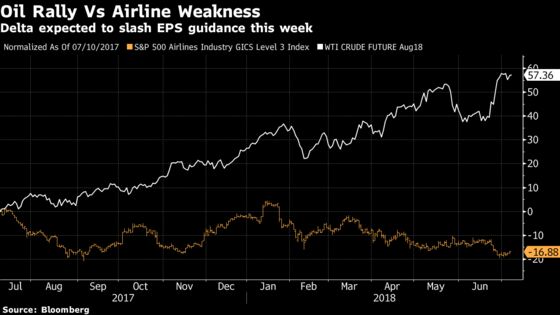 Morgan Stanley strategist Michael Wilson keeps pounding the defensive rotation trade and is taking things up a notch today with a downgrade of tech to underweight and smallcaps to equal-weight while upgrading consumer staples and telecom services; he still sees S&P 500 climbing to 2,800-2,825 in the "very near term as others claim 'Goldilocks' is alive and well on the back of Friday's strong jobs number combined with benign inflation."
Ahead of this week's earnings, Goldman says an in-line quarter for the banks should shore up investor confidence in continued operating performance while Morgan Stanley expects 2018 EPS guide downs for several airlines due to higher oil prices, including a cut for DAL (which reports Thursday) to $5.50-$6.00 vs Street at ~$5.81, lower end of the ranges for AAL and ALGT, and reiteration for UAL.
Deutsche Bank is boosting estimates for the rails across the board and upgrading CNI to a buy (was previously cautious on market share and capex concerns).. Barclays bumped up its NFLX price target to $450, or nearly $100 above the Street average, on higher sub and revenue estimates.. and Piper lifted two tech stocks, FEYE and ANET, to overweight, while BIDU picked up upgrades from Keybanc and Credit Suisse..
Tick-by-Tick Guide to Today's Actionable Events
Today -- AKRX/Fresenius trial starts in Delaware
Today -- DPS/Keurig deal expected to close
7:00am -- ECB's Nowotny speaks in Zurich
8:00am -- KKR investor day
9:00am -- ECB's Draghi speaks to European parliament in Brussels
9:00am -- HELE earnings call
10:00am -- Anthony Scaramucci on Bloomberg TV
10:00am -- PLYA investor day
11:30am -- Treasury auction: $48b 3-month bills, $42b 6-month bills
3:00pm -- Consumer Credit
9:00pm -- Trump expected to announce Supreme Court pick
Tonight -- TV reports earnings