An Amazon Veteran Joins Indoor Farming Startup
(Bloomberg) -- Bowery Farming Inc., an agriculture startup that's less than two years old, got a big boost last month when it poached Brian Donato, a veteran of Amazon's automation efforts.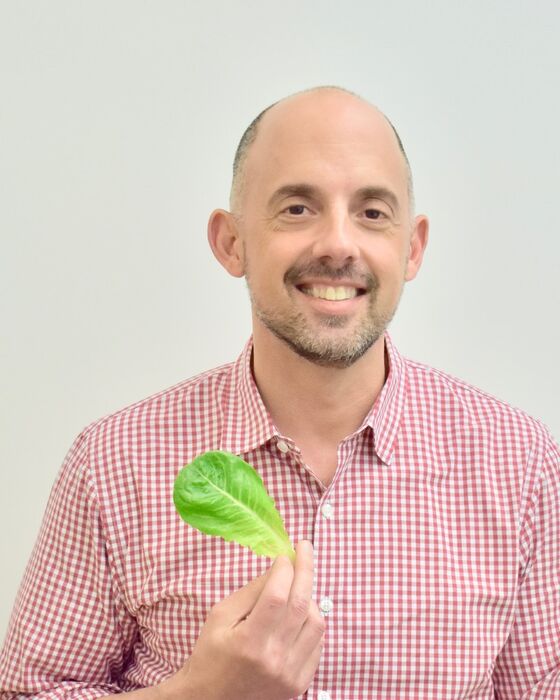 Donato will oversee Bowery's indoor farm in Kearny, New Jersey, a forgotten industrial enclave once famous for building warships. There, Bowery grows leafy greens in a computerized labyrinth of sensor-rich trays that monitor and react to humidity, light and carbon dioxide. Human farmers work alongside the crates, which automatically adjust inputs, like light and temperature. The system, which resembles a giant game of three-dimensional Tetris, is designed to grow lettuce and herbs with limited water and no pesticides.
During his seven years at Amazon, Donato managed Amazon fulfillment centers, the massive distribution hubs where humans and robots pick, pack and assemble hundreds of thousands of orders, each day, for delivery. He most recently ran Amazon Home Services, which provides cleaners, carpenters and more to harried homeowners. Before that he directed operations for the Amazon Fresh and Pantry food delivery services. Bowery's heavily automated process reminds Donato of the fulfillment systems he implemented at Amazon, where he was part of the team that integrated robots into the human workforce. "We had to teach people to care for the automation and to work with it," he says.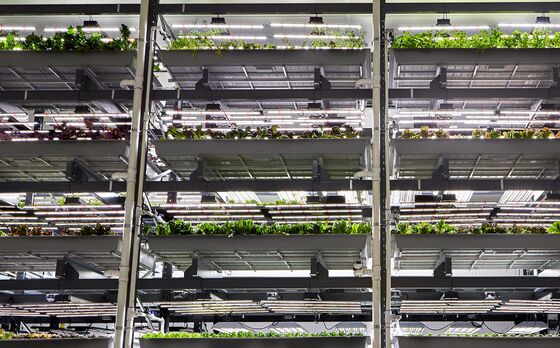 Bowery's indoor farm is controlled by proprietary software called BoweryOS. It uses a web of cameras and sensors to automatically tinker with inputs, like air flow, that help plants flourish. Bowery says one square foot of its indoor farm is 100 times more productive, and less wasteful, than an equivalent plot of arable land. Rival indoor farms make similar claims. 

Besides running the existing farm, Donato will help Bowery Farming set up automated facilities on the outskirts of cities. This summer, he'll launch Bowery's second grow house; it's not far from the current operation in Kearny and 30 times the size of the original farm. A representative for Bowery declined to provide the square footage and yield of its current operation.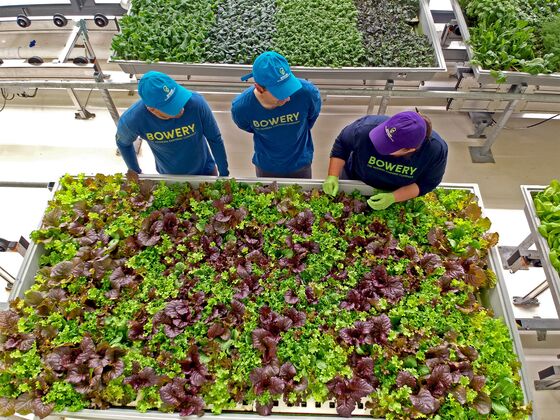 The United Nations says food production will need to double in the next three decades to feed the planet's swelling population. Bowery and a handful of other vertical farming startups aim to cash in on this dire situation by building massive grow houses in and on the outskirts of cities.

Growing near cities could prove lucrative. The U.S. currently imports 35 percent of fruits and vegetables, according to research conducted by Bain & Co. in 2017; leafy greens, mostly grown in California and Arizona, travel an average of 2,000 miles (3,200 km) before reaching most urban supermarkets. 

Some critics says the electricity required to run indoor farms negates the potential transportation savings. "You're using power to produce electricity to replace the sun," says Michael Hamm, a professor of sustainable agriculture at Michigan State University. Bowery Farming doesn't use renewable energy to power its farm.

So far, Bowery sells its own brand of kale, arugula, butter lettuce and herbs to Whole Foods and a few restaurants. The greens are only available in New York City.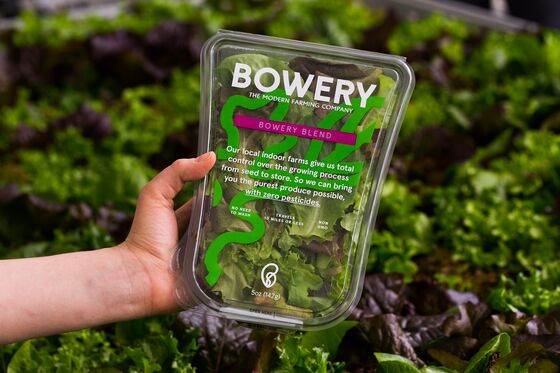 The technology is there to produce herbs and lettuces and tomatoes, Hamm says. "But you need more than greens to feed a city." He says vertical farming has yet to accommodate heartier crops like wheat, corn, berries and root vegetables like carrots, at scale.

Regardless, investors seem excited about the opportunity to disrupt traditional agriculture. Bowery has raised $27.5 million since launching in 2017. Firms piling in include General Catalyst, First Round Capital and Alphabet's venture arm, GGV Capital.

Vertical farming has also caught the attention of SoftBank Group Corp. Last summer, the Japanese conglomerate bet $200 million on San Francisco's Plenty. Where Bowery grows its crop in flat trays stacked like floors of a building, Plenty grows its veggies on poles. Both companies are chasing consumers who want fresh and organic produce.

Bowery Farming's co-founder and chief executive officer, Irving Fain, doesn't seem concerned he's raised significantly less than his West Coast rival. "There's a clear need to improve on the traditional agriculture industry," he says. "We can't do this alone."

Bowery is looking to significantly expand its operation beyond New Jersey by leasing warehouses outside additional cities, as soon next year. Donato will oversee the effort. "I wanted to shed that Amazon shroud of protection and do it on my own," he says.