'Trump Put' May Not Help Much When Momentum Fades: Taking Stock
(Bloomberg) -- S&P futures are higher, give or take by ~5-10 handles, though the conviction in the bounce doesn't appear too high as 1) we've been slapping the flatline several times already in the overnight session, and 2) global woes continue, with Europe lower and China breaking down further into its bear market.
The 2,700 support on the S&P cash index held twice already this week, and that'll remain a level to watch as we await any further concerning trade headlines -- Bay Crest Partners' Jonathan Krinsky sees "cracks in the surface" and expects the SPX to test its 200-day moving average of 2,667 -- and as we push towards the quarter end and a holiday week that could see liquidity dry up more than usual.
One big China sentiment indicator, at least for risk arbitrage traders, is the regulatory approval given to Marvell (shares up 12% pre-market) for its Cavium acquisition. What that means for NXP Semi and Qualcomm is anyone's guess; NXPI is ticking higher so far, but that deal spread remains very wide.
Retail stocks could feel some pain today after Bed Bath & Beyond (BBBY fell >5% last night) reported a surprise drop in 1Q comps while Pier 1 tanked (PIR -16%) on weak forecast and H&M reported a miss, though that stock has reversed almost 10% from its lows in Stockholm. Another European name, lighting maker Osram, is tumbling ~10% after slashing forecasts due to a slowdown in the auto sector and project delays.
The big reports tonight, Nike and KB Home, should move the athletic/footwear stocks and homebuilders, respectively; the latter group saw a relief rally on Tuesday after Lennar's blowout, so we'll see if that was a company-specific fluke or a sign of better things to come. Plus RBC assumed the group with a positive view (more on this below), so that may help sentiment until the numbers roll in.
The practice of trotting out White House advisers to stem any bleeding in the tape (or a "Trump Put," if you will) has become a bit of a joke among the trading community -- like the second when downticks start to accelerate, people are almost expecting an appearance from a prominent member of the administration to say something along the lines that trade talks are going well or that media reports on wrinkles in the trade war are incorrect -- Navarro worked his magic in the last half hour of Monday's session while Mnuchin hit the airwaves after Trump's decision not to invoke emergency law to hit back at China, all before Kudlow conspicuously ruined it all with a harder line stance.
The administration has done this before, but it's getting a bit more play in the financial community now that trade war fears are the No. 1 thing going on at the moment and with this multi-day pullback seeming more vicious than usual (SPX down >90 handles in two weeks), as we've become a bit more accustomed to a relative calm and rangebound nature of this market for months now (VIX hasn't been this high for consective days since late April).
Net net, it's pretty obvious from Trump's tweets in the past and the TV grab lately that this administration is paying VERY close attention to what the stock market is doing. For further context, see this tweet from CNBC's Kayla Tausche about how Mnuchin, Navarro, Kudlow, and Hassett are plugged in to the market's reaction directly after their appearances on TV.
Wednesday's breakdown looked a bit like Monday's when it came down to the granularities of the market: The previously on-fire small caps pulled back hard (Russell 2000 fell 1.7% on both days), momentum stocks fell apart again (it feels like Red Hat's recent forecast whiff soured sentiment on more than just the cloud names, but all things MTUM-related ex-energy; recall NFLX's jarring 6.5% decline to start the week), semiconductors got their teeth knocked out (SOX down >5% this week to its 200-day moving average - see chart below), the banks continue to reel into tonight's CCAR stress test (S5FINL's record losing streak of 12 days got extended to 13), while rotation ensued in the more defensive groups like the utilities and consumer staples.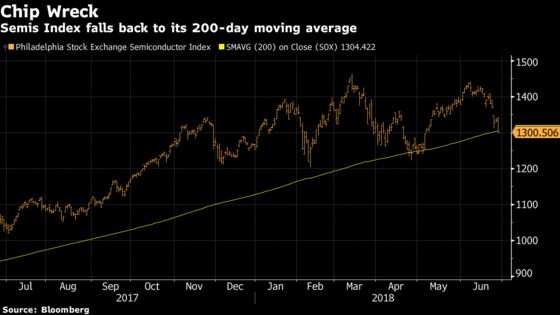 After the selloff... Bernstein says trade-related weakness in Boeing has created a "highly attractive buying opportunity" while Baird says we "would not be pressing bank shorts here" as the group looks oversold, upgrading RF in the process to a neutral as capital return is set to meaningfully increase..
Two bullish notes on TSLA ahead of 2Q delivery number release, with Baird recommending to buy shares into the catalyst (sees ~25k deliveries "with more vehicles in the channel, though we believe the focus will be on production as opposed to total deliveries") while Berenberg says it has increased confidence after a tour of the Gigafactory showed that key module bottlenecks have been overcome..
Citi has an initiation on the big data & analystics software space, naming AYX its top pick, upgrading TLND, and recommending CLDR and HDP on "overdone cloud risk".. and the homebuilders and the building products sectors were assumed with a positive view by RBC as investor sentiment has grown sharply negative around interest rates and cost inflation..
Tick-by-Tick Guide to Today's Actionable Events
7:00am -- WBA earnings
7:30am -- CAG earnings
8:00am -- Germany CPI
8:00am -- BIIB webcast on efforts targing acute ischemic stroke
8:30am -- GDP, Initial Jobless Claims
8:30am -- WBA earnings call
8:30am -- MCK investor day
9:00am -- TDG analyst day
9:30am -- SRE investor day
9:30am -- CAG earnings call
9:45am -- Bloomberg Consumer Comfort
10:00am -- World Cup: Senegal vs Colombia, Japan vs Poland
10:30am -- EIA natgas storage
10:45am -- Fed's Bullard speaks on economy and monetary policy
12:00pm -- Fed's Bostic meets with Fed Up Coalition
2:00pm -- Bridgewater founder Ray Dalio on Bloomberg TV
2:00pm -- World Cup: England vs Belgium, Panama vs Tunisia
4:05pm -- KBH earnings
4:10pm -- Fed's Kashkari on Bloomberg TV
4:15pm -- NKE, SNX earnings
4:30pm -- CCAR stress test results
5:00pm -- NKE, KBH earnings call
Tonight -- IPOs to price: Domo (DOMO)