The New GE Could Use Some Berkshire Spirit
(Bloomberg Opinion) -- General Electric Co. is breaking up in more ways than one.
You can read more about the significance of these changes here. But I want to focus on what will be left over. The new GE will sell aviation, power and renewable-energy equipment. At first glance, it will still be a diversified company, some might even say a conglomerate. Even so, I'm cautiously optimistic that GE is finally on the right path.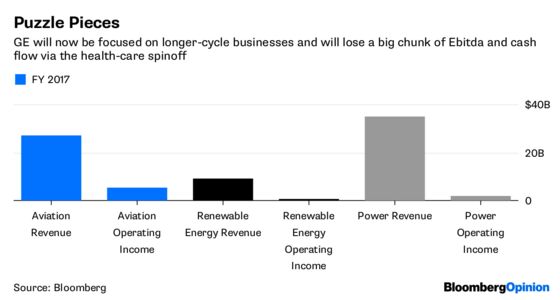 This reshuffling feels different than the many others GE has undertaken. It's not just about shrinking the company and raising cash: Flannery seems to have a reasonable plan to run the remaining GE businesses better. He apparently dreamt up this plan on snowless ski slopes a month after he was supposed to present said plan at the November investor day, but better late than never, I guess. There's a sense of urgency to move away from a pattern of belching out businesses when the going gets tough and instead attack the bureaucracy that crippled these discarded units in the first place. This key element was missing from former CEO Jeff Immelt's multi-year dismantling of GE.
In that vein, GE is seeking to endow its remaining businesses with some of the philosophical benefits they'd get in a breakup. It's embracing a new operating strategy that will cut headquarter bloat and allow the units to be more autonomous. Centralized infrastructure like GE Global Research, the GE Global Growth Organization and the digital strategy will be reined in. Cutting this corporate fat is set to deliver $500 million in additional savings. In an interview, Flannery said the divestiture moves and the operating plan for the remaining operations all fit into the same notion of "unleashing the best form of the businesses."

It's a bit ridiculous that GE has so much fat left to trim. This is after all the company that put the by-the-numbers Six Sigma strategy on the map and promised to usher in a new frontier in efficiency with its digital transformation. But GE CFO Jamie Miller on Tuesday highlighted some pretty basic cash management tactics — like better handling of billings and collections — to explain how GE will reduce its average commercial paper usage to less than $5 billion by 2020, from $16 billion in 2017. That suggests discipline was sorely lacking.
As I noted yesterday, this breakup plan isn't a magical fix. GE's own estimates reportedly indicate the sum of its parts should justify a valuation of more than $20 per share. That's still about 30 percent less than the stock price the day Flannery was named CEO. Analysts think $15 is a more appropriate valuation. Getting to even that will require top-notch execution, something that has not been GE's strong suit of late.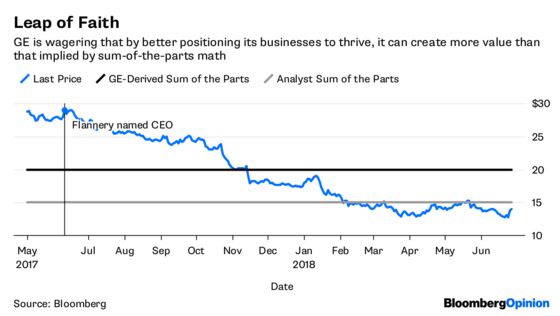 There are more obvious synergies between the aviation, power and renewable units than any of them had with the health-care business. But this reorganization will make GE even more dependent on its crown-jewel aviation unit — just as Boeing Co. and Airbus SE push further into aftermarket parts and services — while it muddles through a weak power market that's not expected to stabilize for a few years. Without the stable, cash-generating health-care unit, GE is more prone to get rocked by an economic downturn. That's a little unsettling. 
Still, when you look at the conglomerates that have done well, they very much embrace this idea of making divisions more independent and accountable. Danaher Corp. does this, and its former CEO Larry Culp is now GE's lead director. Roper Technologies Inc. is another example, as is Berkshire Hathaway Inc. Imbuing business leaders with a sense of independence and personal responsibility is just common sense.
You can already see better accountability creeping into GE's communications with investors. For the first time I can remember, GE is explicitly acknowledging its substantial pension deficit in its net debt calculations. It's still not using as conservative a definition as its industrial peers, says Bloomberg Intelligence analyst Joel Levington. But it's a good sign that GE is no longer trying to optically sweep the pension problem under the rug.
I could be wrong; I've been let down by GE before. But at least now the company has the right ingredients and the right thought process to rebuild itself.