Heathrow's Third Runway Seen Compatible With U.K. Green Targets
(Bloomberg) -- London Heathrow's controversial third runway fits within Britain's plan for reining in fossil-fuel emissions, according to the government's Committee on Climate Change.
"Another runway at Heathrow could be accommodated within those parameters," said John Gummer, chairman of the committee. Modern technology "ought to give elbow room for about a 60 percent growth in demand," he said at a briefing in London.
On Monday, U.K. lawmakers finally backed the addition of the runway at Heathrow, London's largest airport, after a years-long debate that addressed concerns ranging from noise levels to where it should be located. Pollution from the extra flights from the 16 billion-pound ($21 billion) expansion plan was also a sticking point.
The aviation industry is responsible for about 5 percent of global greenhouse gases, according to Transport & Environment, a Brussels-based NGO. The United Nations brokered an accord to clean up aircraft emissions in a 2016 deal seen as lax by environmentalists as it's voluntary for the first six years and only covers international flights. Airlines can also buy carbon credits, which act to offset greenhouse gases associated with flights.
U.K. aviation should change "at home" and not rely on credits, Gummer said. The industry already has a "generous share" of carbon allocation, as planes are allowed to pollute more than any other part of the economy.
The U.K. has legally-binding targets to reduce emissions by at least 80 percent from 1990 levels by 2050. The government has so-called carbon budgets for a series of five-year periods that gradually restrict the amount of carbon dioxide the country can emit.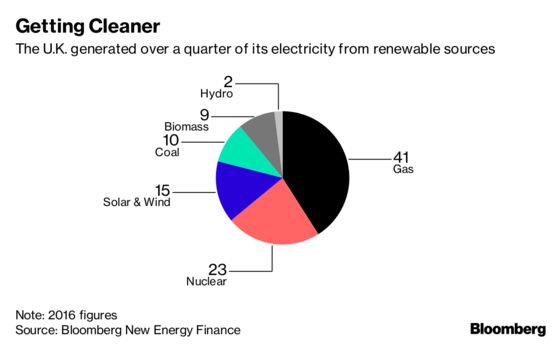 Airlines will still have to evolve their operations to remain compliant, according to the committee's chief executive officer Chris Stark.
"We need extensive use of biofuels and we need efficiency savings in the technology," he said. "There's lots of scope to achieve that."
The U.K. has cut its emissions by 43 percent since 1990, at the same time that the economy grew 70 percent. Most of this reduction has come from the power sector. Britain has installed more offshore wind turbines than any other nation.
The country still hasn't done enough to reduce emissions from transport, agriculture and housing, according to the Committee on Climate Change's latest progress report. The U.K. isn't likely to keep its pollution within the next two carbon budgets unless new policies are enacted.
The report was released the same week that the government canceled the Swansea tidal power project, a pilot for technology to generate electricity from the sea.