GE Fails to Win Over Wall Street
(Bloomberg) -- General Electric on Tuesday finally delivered what investors and analysts have been requesting ever since the company's deep troubles surfaced late last year - a breakup of the massive conglomerate and sharpened focus on the aviation, power and renewable energy. But not everyone is convinced of GE's ability to turn itself around.
While GE shares closed up 7.8 percent yesterday and continued to climb today, analysts see few fundamental reasons for continued strength, especially given the lingering uncertainties associated with Power/GE Capital.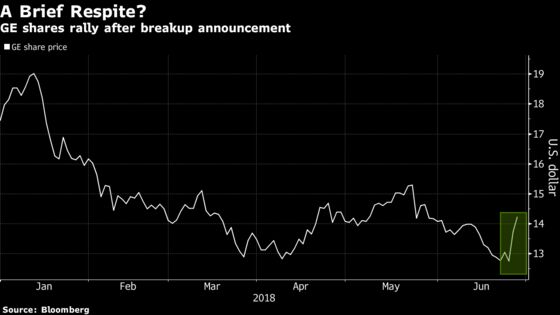 Here's a roundup of the analyst commentary post the breakup announcement yesterday.
Goldman Sachs, Joe Ritchie
(Neutral, price target $14)
"Deleveraging much needed but tough to see upside value."
"The steps outlined are effectively the equivalent of swapping out debt for equity and would be dilutive to existing shareholders from an EPS/FCF standpoint once completed."
"We were negatively surprised by the announcement of a $3 billion contribution to equity capital by the parent through 2019. Against this backdrop, even with reduced risks to GE's credit worthiness, we see few fundamental factors for outperformance given the dilution and uncertainties associated with Power/GE Capital."
(Sector perform, price target $15)
"The bottom line is that investors have been clamoring for a breakup of this magnitude. The plan arguably lifts the strategic uncertainty that has kept the story in limbo for the past year."
"To be clear, we do not see how this breakup unlocks significant value in the stock. The quick math on the announced divestitures points to roughly 40 percent Ebitda dilution, without factoring in potential upsized cost savings."
(Underweight, price target $11)
"This is not a full reset and de-risk, we see it as more financially engineered value created on the back of intangible opinions/assumptions, avoiding headlines like 'GE cuts dividend' or 'GE raises equity."'
"There is actually little new deleveraging here for the enterprise, as we are not sure how an incremental ~$5 billion of net industrial cash brought can turn into $60 billion, and therefore this plan falls well short of what we view as a number to truly derisk/provide optionality."
"The dividend is likely to be cut meaningfully, headline announcement or not."
"While the management pitch is that they don't need BHGE cash, we don't see how that's possible with this backdrop and we now assume they use it for purposes other than the shareholder."
Oppenheimer, Christopher Glynn
(Perform from underperform)
Upgrades GE based on potential for portfolio plan to unlock some value and diminish liabilities.
"We estimate Healthcare could yield $50 billion of equity value, GE's BHGE stake is worth ~ $23.5 billion now, and the Transportation transaction's value of over $12 billion includes ~$7.5 billion prospective stake for GE shareholders."
"Excluding BHGE distribution, Healthcare free cash flow, and pending dispositions, we estimate RemainCo current pro forma free cash flow of $2.4 billion."
William Blair, Nicholas Heymann
(Outperform)
Believes GE's shares are likely to offer material upside potential over the near and intermediate time horizon. Notes that oil prices remain near 4-year highs, enabling material improvement in orders and 2018 fundamental prospects for GE's stake in Baker Hughes.
"While GE faces several regulatory and various shareholder and bondholder lawsuits, it appears to be moving closer to solving these."
The performance of Aviation, Baker Hughes, and Renewables, which will comprise more than 80% of GE Industrial's estimated 2019 earnings and Ebitda, should benefit from accelerated structural cost reductions at Power to limit further earnings downside in 2019 and 2020.
"GE is well-positioned to materially reduce its largest unfunded liability in 2018, the $18 billion contractual portion of its $29 billion underfunded pension plan."
(Buy-accumulate, price target $27)
"GE's break-up plan is logical."
"It's hard to imagine that GE shareholders don't own a company with materially higher value than $13, in 2 years. Spin-offs normally work – the pieces and stub GE should be very good investments – given the quality of the assets and costs that can come out."