Brazil's Unpopular Fuel Policy Means Sugar Faces Vote Threat
(Bloomberg) -- At a gas station in Sao Paulo, Luis Matos is filling up his car. But instead of driving it work, he will leave it parked until the weekend.
"Since last year I have been trying to use the car less and the motorcycle more to save on gasoline," said the 37-year-old dentist, who now only drives his car at the weekend. "Fuel costs are too high and I just can't afford it."
Matos is one of millions of Brazilians who have cut back on car use after fuel costs climbed to a record. Like many in Latin America's biggest economy, he's also struggling to adapt to daily swings at the pump after state-run oil company Petrobras ended a decade of gasoline price caps.
That move aligned domestic gasoline prices with the international oil market. It also leveled the playing field for ethanol. Most Brazilian motorists drive flex-fuel cars that can run on ethanol or a mixture of gasoline and the biofuel.
The new policy has brought cheer to Brazil's embattled sugar industry, the world's largest, which produces ethanol from sugar-cane. But overall it has proved to be unpopular in a country where the population is almost entirely reliant on road transportation, and where 21 percent of workers don't make the minimum monthly wage of 954 reais ($253).
Changes may be afoot after October's presidential election. The leading candidate in the most recent polls, Jair Bolsonaro, says Brazil needs to review Petrobras's monopoly. Pro-environment candidate Marina Silva, currently in second place, says fuel prices shouldn't be adjusted daily. Ciro Gomes, the leftist candidate in third place, wants to limit the company's profit margins.
"Fixing the gasoline price gets a lot of votes," said Jonathan Kingsman, a former trader and the author of Commodity Conversations, a book about the agricultural commodities markets. "If you got a certain amount of money you don't care what the gasoline price is, but if you are poor and you are trying to get to work, then it's a real problem."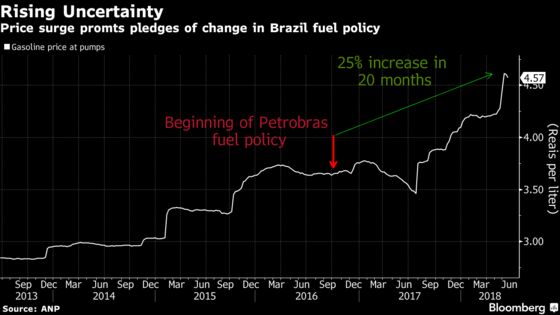 The debate comes just as the end to gasoline caps had boosted demand for ethanol and improved the outlook for the industry. Consumption rose 41 percent this year through April, a two-year high, according to oil regulator ANP. Ethanol plants are now selling the biofuel at prices 20 percent higher than a year ago. Ethanol is very competitive against gasoline in most Brazilian states, said Nick Penney, a senior trader at London-based futures and options brokerage Sucden Financial.
"Upcoming elections at the end of the year and a change in energy policy back to the 'bad old days' of artificially low gasoline prices is a threat," he said.
A return to gasoline price controls would be dire news for Brazilian sugar producers. While higher ethanol demand has helped, they're still struggling with sugar prices that are near the lowest in a decade. More than 80 sugar mills have closed since 2008, according to Unica, an industry association. About 30 percent of the remaining plants face high levels of debt, said Elizabeth Farina, president of the Sao Paulo-based group.
Bunge Ltd., a big U.S. agricultural trader and processor, said June 15 it postponed an initial public offering of its Brazilian sugar unit due to market conditions. Cofco International Ltd., a Chinese owner of Brazilian sugar mills, wouldn't make further investments in Brazil before the elections, said Marcelo de Andrade, the company's global head of soft commodities.
Apart from the possible change in fuel policy, Brazil's Senate approved legislation that will allow millers to bypass distributors and sell ethanol directly to fuel retailers in a bid to lower prices. That could undermine RenovaBio, a program that's designed to boost production and consumption of biofuels and was welcomed by the industry.
The strike by truck drivers that paralyzed Brazil last month has already given the sugar industry a taste of how public opinion can lead to quick changes in policy. To stem the protests, the government intervened to cut diesel prices, while Pedro Parente, the Petrobras chief who introduced the market-friendly fuel policy, resigned.
Mills are more vulnerable following the strike and the market will see some kind of move to reduce the impact of daily oil-price volatility at the pump, said Luiz Gustavo Figueiredo, a commercial director at Usina Alta Mogiana, a sugar and ethanol mill in Sao Paulo state.
"The truckers' strike has done more than simply interrupt logistics for a week or two," said Andy Duff, a Sao Paulo-based analyst at Rabobank International, a lender to the agriculture industry. "For the cane sector, it's looking increasingly like Pandora's box."