Tesla Model 3 Deliveries May Disappoint Again, Goldman Says
(Bloomberg) -- Tesla Inc. shareholders may be in for more heartache.
A long-time bearish analyst for the electric vehicle maker expects second-quarter Model 3 delivery numbers to be underwhelming, again. Goldman Sachs' David Tamberrino, who has had a sell rating on Tesla since February last year, said deliveries were tracking below consensus, and noted that expectations for second-quarter production rate appeared to be "elevated."
Model 3 production rate expectations have been revised numerous times by the company, and Tesla's latest pledge has been to make 5,000 of the sedans a week by the end of this month. Musk said about two years ago was that 100,000 to 200,000 Model 3s would be produced in the second half of 2017. Instead, only 9,766 rolled out in the first quarter -- a weekly output rate of roughly 750.
"Investor conversations on the stock have moved past the 5,000/week run-rate production target (as we believe most are giving the company credit for achieving this level entering third quarter) toward vehicle profit margins and conversion of Model 3 reservations to higher priced vehicles," Tamberrino wrote in a note to clients.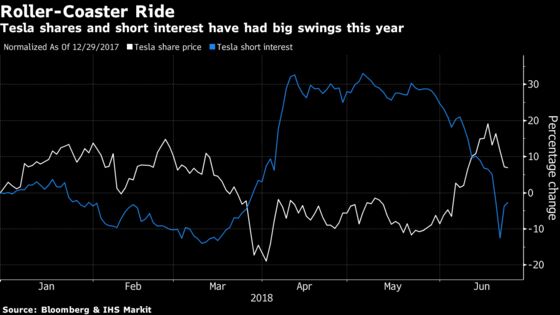 Tesla will announce its latest quarterly production and delivery numbers in early July.