Every Trade Wrinkle Is More Punishing Than Before: Taking Stock
(Bloomberg) -- Over the past week, we transitioned from a market that appeared to have buyers pouncing at every down-tick opportunity, no matter how much the ante was upped by either side in the U.S.-China trade tiff, to one that drifted lower as the tough talk was taken a bit more seriously.
The S&P 500 fell close to 1% last week, which isn't too shabby considering 1) the focus turning squarely on trade vs the prior weeks where we had plenty of other distractions, and right at a time when the trade threats appear to be spiraling out of control, 2) brutal selloffs in China, which have put the country's stock market on the brink of a bear market, 3) the Daimler profit warning that put the trade war fears into a more tangible perspective for the corporate world and is making people wonder who is next, 4) some disappointing economic data out of the U.S., like the Philly Fed and Flash PMIs, 5) a multitude of bullish to semi-bullish equity strategists waving the caution flag, 6) and the speed at which ran up almost a hundred points from the 2,700 mark in the early half of June.
But the real story is in the trade proxies and how awful the action has been for these industrial bellwethers over the past eight sessions: Caterpillar -11% (and at some big support levels you can see in the chart below), Deere -9.2%, Boeing -8.6%, GM -6.6%.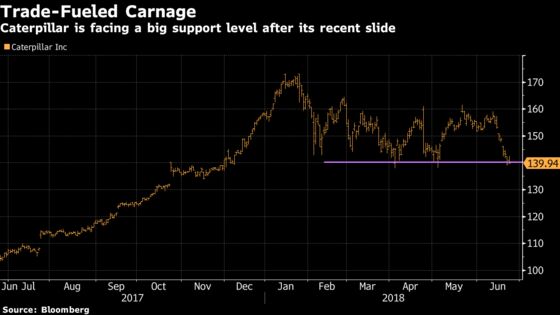 The selloffs in these names are unlikely to be stymied as long as we keep getting fresh trade threats, like the one from Friday about a 20% tariff on cars imported from the EU, or the overnight story about the planned curbs on Chinese investments in sensitive U.S. industries under an emergency law and how this might put the trade war on a "potentially irreversible course."
This new wrinkle smacked global markets -- Stoxx 600 is off more than 1% while China dips another 1.1% (paring all gains from the anticipated reserve-ratio cut as the yuan hit a six-month low) -- and the S&P Futures are now at session lows, down ~20 handles with the cash index looking to open below the low end of its recent range of 2,750. The sea of red is prominent with the trade proxies down again (BA down ~2% pre-market, CAT -1.2%) and tech looking weaker all around with NVDA and MU both down ~2%, NXPI -1.6%, and the recent IPOs in the space breaking down further like HUYA, IQ, and BILI.
Here's a look at some recent posts on the investment network SumZero:
Jon Preizler, analyst of RH Capital (June 18) -- Recommended going long industrial smid-cap SPX Corp. (SPXC), which is in the "sweet spot where they have low capex requirements (1% of revs), strong end markets, diverse customer base with a high % of replacement rev's that has communicated it can acquire an additional $60m + of EBITDA over the next two years while leveraging their sales channel and process improvements." He sees shares hitting $50-$55 over the next two years, or upside of up to ~55% as of Friday's close.
Charles Russell, managing partner at Massif Capital (June 14) -- Said to short shares of Norwegian Cruise Line (NCLH) given ample evidence suggesting global demand is unlikely to keep pace with cruise ship capacity between now and 2025. The company would be forced to raise ticket prices on price-sensitive consumers by more than 8% a year to keep pace with its current valuation, and "there is no precedent to suggest that is possible." Russell estimated that NCLH has intrinsic value of less than $26 per share, implying downside of at least 50%. Note that cruise line peer Carnival Corp. (CCL), which has exposure to China, reports earnings later this morning.
Rick Ryskalczyk, chief equity analyst at Sandhill Investment Management (June 13) -- Recommended buying shares of Dentsply Sirona (XRAY), a dental equipment maker whose seen its stock stumble recently for a year-to-date loss of 32%. He sees Dentsply as a turnaround story that finally has the proper leadership it needs, pinning a price target of $59.50, or back to where it was trading in early February.
Rails should outperform the industrials tape on two big calls out there: 1) Bernstein is taking its numbers up on the rail sector as fundamental data points should continue to read positively, and is most bullish on UNP given supportive cash flow-based valuations, and 2) Citi is also boosting estimates for the "must own sub-sector" on the fundamentals and upgrades NSC to a buy.
Goldman initiates the apparel and accessories sector with an attractive view as growth appears to be accelerating -- best ideas are buy-rated TPR (on conviction list), TIF, and VFC, as well as sell-rated PVH.. Separately, Goldman upgrades auto parts supplier BWA to a buy on secular exposure to tightening regulatory standards and content penetration..
Bernstein's Toni Sacconaghi still recommends a modest overweight in tech, though bias is to value vs growth as group has "become meaningfully more expensive".. Elsewhere in the sector, Nomura Instinet downgrades INTC to a neutral on the CEO departure, BofAML names AMD a top SMidcap pick (PT lifted to $20), Morgan Stanley upgraded CIEN to an overweight, and Piper initiates TWLO at an overweight with a Street-high price target of $70..
Morgan Stanley strategist Michael Wilson says the outperformance in small caps "may have a bit more room to run" and reiterates his underweight rating on consumer discretionary on early signs of weakening store traffic..
Tick-by-Tick Guide to Today's Actionable Events
Today -- DDR spinoff Retail Value when-issued will start trading under RVI WI
Today -- IPO lockup expiry: LIVX
8:00am -- COOL investor meeting
8:30am -- Chicago Fed
9:15am -- CCL earnings
10:00am -- New Home Sales
10:00am -- CCL earnings call
10:00am -- World Cup: Uruguay vs Russia, Saudi Arabia vs Egypt
10:30am -- Dallas Fed
1:30pm -- THRM strategic update
2:00pm -- DVMT annual meeting (watch VMW)
2:00pm -- AAWW analyst day
2:00pm -- World Cup: Iran vs Portugal, Spain vs Morocco