Micron Results Under the Microscope as Memory Cycle Debate Rages
(Bloomberg) -- Even those with limited recall can remember when selling memory chips was a bad business. When Micron Technology Inc. releases results on Wednesday, the industry's gruesome boom-and-bust cycles will be easy to forget -- and the company wants it to stay that way.
Micron is expected to report fiscal third-quarter profit more than doubled, putting the largest U.S. memory maker on pace for a record $13.3 billion in net income for the full year, according to data compiled by Bloomberg. Only two years ago, it lost money. In 2013, sales were about $2 billion less than earnings will be this year.
Demand for memory chips, which store information in mobile devices and help processors crunch data in computers and data centers, has outstripped supply in recent years, pushing up prices. That's helped make Micron one of the best-performing technology stocks in the past two years. The Boise, Idaho-based company's share price has jumped almost fivefold in the last 24 months, making it second only to graphics chipmaker Nvidia Corp. in the S&P 500 Index over that period.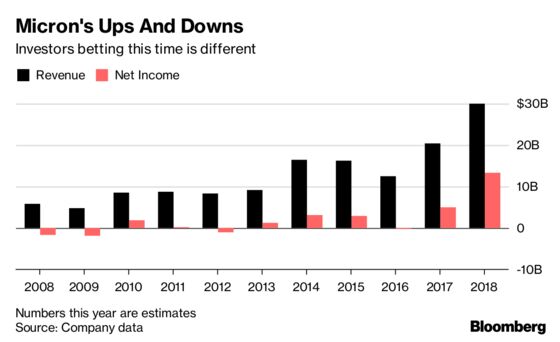 On Wednesday, all eyes will be on Micron's forecast for the current quarter. Last month, the company boosted its third-quarter forecast well above Wall Street expectations.
Most analysts are sanguine about Micron's ability to continue to wring big profit from the memory market. Of the 29 covering the company, 23 recommend buying the stock and none say sell. Some hedge funds have also bet heavily on the stock.
Micron says new uses of its chips and a flood of data make memory demand more diverse and sustainable. It also argues that producers are less likely to suddenly bring on new production and create a glut.
For now, that looks like it's playing out. Still, some investors are concerned the company is riding another peak in an industry that has traditionally been the most volatile part of the $400 billion semiconductor market. Micron's history doesn't help: It has reported a loss in four of the last 10 calendar years.
The fact that Micron's earnings growth has outpaced the stock over the past year shows how acute cyclical concerns are, Evercore ISI analyst C.J. Muse said in a research note. He's worried that chip producers won't be able to resist the temptation to build more production and flood the market with supply, a pattern that killed previous rallies.
"Have you ever seen a memory maker delay investments at or near peak margins? Neither have we," said Muse, who expects DRAM prices to decline in the second half of the year.
Dynamic random access memory, one of the two most-common types of memory chip, is going through a historical boom. Last year prices surged, with a 47 percent jump in the price-per-bit of DRAM that market researcher IC Insights calculates was the largest annual increase since 1978.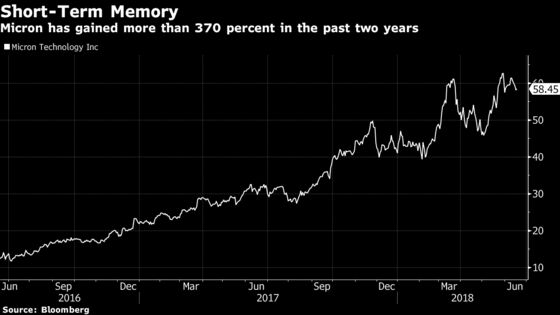 Micron Estimates & Forecasts
3Q adjusted EPS estimate $3.14 (range $3.10-$3.17); forecast $3.12-$3.16
3Q adjusted revenue estimate $7.76 billion (range $7.73 billion to $7.85 billion); forecast $7.7 billion to $7.8 billion
3Q adjusted gross margin estimate 61.1%
4Q adjusted EPS estimate $3.17 (range $2.90 to $3.42)
4Q adjusted revenue estimate $8.02 billion (range $7.75 billion to $8.41 billion)
4Q adjusted gross margin estimate 60.5%