Three New Billionaires in Two Days as China Battery Giant Soars
(Bloomberg) -- The initial public offering of the world's biggest maker of electric-vehicle batteries produced its third billionaire in two days as the stock continued to soar in Shenzhen.
Contemporary Amperex Technology Co. Ltd. jumped by the maximum 10 percent allowed at 11:25 a.m. local time, following a debut increase of 44 percent Monday. That gave the company a market value of about $13.5 billion, pushing the net worth of shareholder Pei Zhenhua, a clean-technology executive, past the $1 billion mark, according to the Bloomberg Billionaires Index.
CATL's founder and top shareholder Zeng Yuqun and his lieutenant Huang Shilin were already cemented on China's rich list along with Monday's stock jump. Investors are betting that CATL can fend off rivals Panasonic Corp., which makes power packs with Tesla Inc.; Warren Buffett-backed BYD Co.; and LG Chem Ltd. as the increasing popularity of EVs boosts demand for the batteries that move them.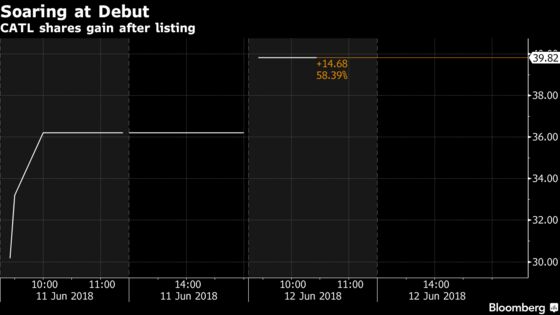 Pei, chairman of Suzhou TA&A Ultra Clean Technology Co., owns 6.1 percent of CATL through a holding company and 44.2 percent of Suzhou TA&A with his wife, giving him a net worth of $1 billion. Suzhou TA&A said in a March filing that Pei's investment in CATL is his personal act.
The IPO made CATL the biggest company on China's Nasdaq-style ChiNext list. Zeng, a 50-year-old engineer who started CATL seven years ago, owns a 26 percent stake and has an estimated net worth of $3.8 billion. Vice Chairman Huang holds 12 percent and has an estimated net worth of $1.9 billion. A CATL representative declined to comment on the net worth of its executives.