Another Splashy Summit Turns Into a Nothingburger: Taking Stock
(Bloomberg) -- The Trump-Kim summit has come and gone, and while this one had a more amicable outcome than the G-7, the markets still don't appear to care a whole lot.
A quick look at the screens show that S&P 500 futures are down marginally with swings overnight that could hardly be called dramatic.. Europe stocks are off highs as the German ZEW disappointed (at levels unseen since 2012), and the Stoxx 600 is now unchanged on the day.. the VIX is still relatively depressed in the 12-13 range while the dollar index is flattish and the 10-year yield is exactly where it was during Monday's session..
Things started off weird last night, with the Kudlow heart attack announcement ~30 minutes before the historic handshake between the two world leaders. Dennis Rodman broke down on live TV while sporting a bright red MAGA hat and hawking a PotCoin.com shirt. But in the end, something was signed, pledges were pledged, statements were made, and now the political pundits can duke it out over who got the upper hand.
But for the markets, it was a relative nothingburger (as most every trade & geopolitical event has been in the past weeks) and we move on to more pressing matters like the upcoming May CPI inflation datapoint and what it means ahead of tomorrow's expected Fed hike. Here's our take:
From Bloomberg Economics: "The May CPI will show both headline and core inflation trending further above 2% in year-on-year terms. While the underlying details will be carefully scrutinized for clues indicating how the Fed's preferred metric -- the PCE deflator -- will perform in the near term, the results will not impact policy makers' actions at the conclusion of the June FOMC meeting the following day."
We're also expecting a continued rally in retail today -- we've been saying that a lot with all of the end-of-"retailpocalypse" calls lately, and as the XRT has surged almost 7% month-to-date -- after big upside moves last night in RH +22% and URBN +4.4% (and even restaurant name PLAY +13%). And we await the Time Warner/AT&T ruling, and what it means for the M&A landscape, in addition to further developments in the reported Boston Scientific/Stryker saga.
FAANGs Remain the Most Crowded Trade
Here are some of the key takes from BofAML's latest fund manager survey:
Allocation to U.S. equities rises to net 1% overweight, which is the first time investors surveyed have gone overweight in 15 months
Allocation to commodities is up to net 7% overweight, its highest since April 2012 when WTI crude was trading at $105 per barrel
Rotation in June shows investors are selling cyclicals (banks, emerging markets, Eurozone equities) in favor of defensive sectors and U.S. equities
"Long FAANG + BAT" remains the most crowded trade for a fifth straight monthed followed by "Short U.S. Treasuries" and "Long USD"
It's probably not the best idea to draw any conclusions from what we've seen out of the market over the past couple days given how anemic volumes have been -- Monday was the lightest in more than two weeks, and Friday wasn't much better -- as we've been in complete wait-and-see mode ahead of the big Trump-Kim powwow.
But there is an observation worth making, and one that has gone a bit more under the radar than the recent breather that the tech space has taken, and that is the strength exhibited in consumer staples of late. The staples were, and still are, the worst-performing sector in the S&P 500 year-to-date, and have been hovering around oversold levels for months now. But just in the past three days we've seen the staples ETF XLP climb 2.7% for its first four-day winning streak all year and beyond outperforming the SPX +0.4% and the tech ETF XLK -0.8%.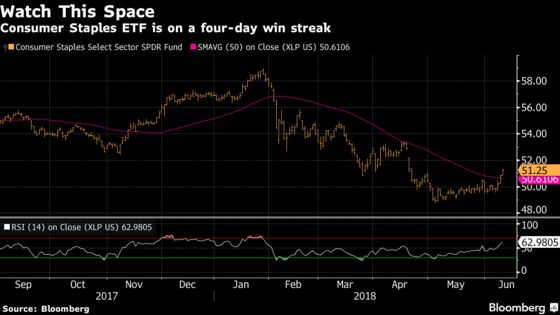 Why this is happening could be a number of reasons:
1) Sentiment finally turning after the group was hit extra hard during the most recent earnings season on headwinds ranging from cost inflation to competitive pressures; Fundstrat upgraded staples on Friday to a neutral after recent underperformance
2) Positioning towards more defensive sectors given trade & geopolitical concerns, as active managers have ratcheted up exposure to staples to a one-year high, according to a recent BofAML note
3) A slight unwind of the "sell yield proxies" trade with the 10-year failing to hold above the spooky 3% level for more than two weeks now
4) Staples yielding over 3% in dividends, or around 1.2-1.4 percentage points more than the yield on the S&P 500, which is the highest level in seven years
5) The sector's forward P/E has de-rated and is now more in line with the S&P 500 after trading at a premium for the past eight years
While this might be a short-term bounce, potentially even chocked up to an inevitable short squeeze, it's something we'll be watching going forward, especially if the drumbeat to ring the register in tech gets louder and money needs to be put elsewhere as a result.
The biggest calls of the day..
JPMorgan lifts its price target on overweight-rated and focus list-included TWTR from $39 to $50, matching a Street high, on strong ad momentum, particularly among large marketers.. separately, JPMorgan is defending the semi equipment space, recommending to buy overweight-rated AMAT and LRCX on recent weakness..
Keybanc boosts estimates on sector weight-rated TSLA after checks with sales centers indicate Model 3 deliveries are tracking ~50% higher than the firm's previous estimates for the quarter..
Morgan Stanley recalibrates ratings in the gold sector, upgrading NEM to overweight (on strong execution and steady production profile) and downgrading the already underperforming ABX to an underweight ("we are not yet on board with a rotation trade")..
Tick-by-Tick Guide to Today's Actionable Events
Today -- E3 Expo starts
Today -- Salesforce three-day Connections conference starts
8:00am -- FDC investor meeting
8:00am -- BAC at Morgan Stanley Financials Conference
8:30am -- May CPI
8:30am -- ADP investor day
9:00am -- AJG investor meeting
9:10am -- APRN, NTNX at Stifel Cross Sector Insight Conference
9:30am -- GM annual meeting
9:30am -- VST analyst day
10:00am -- HHS Secretary Azar testifies at Senate meeting on Trump's drug price plan
10:00am -- FTV investor day
10:45am -- CL at Deutsche Bank Global Consumer Conference
11:00am -- ABBV, MDT at Goldman Global Health Care Conference
11:30am - GWRE, LECO at Stifel Cross Sector Insight Conference
11:50am -- ACIA at William Blair Growth Stock Conference
12:00pm -- WASDE grains report for June
12:20pm -- JNJ at Goldman Global Health Care Conference
12:30pm -- DOCU, PSTG, OKTA at William Blair Growth Stock Conference
1:10pm -- VMW at William Blair Growth Stock Conference
1:15pm -- CRM, NTR at Stifel Cross Sector Insight Conference
1:50pm -- SHOP, GNRC, PBPB at William Blair Growth Stock Conference
2:20pm -- BLUE, CI at Goldman Global Health Care Conference
3:50pm -- HSIC, CARG, PRTY at William Blair Growth Stock Conference
4:00pm -- TWX/T trial decision expected (roughly)
4:00pm -- PVTL earnings (roughly)
4:05pm -- OXM earnings
4:15pm -- HRB, SAIC earnings
4:15pm -- JPM at Morgan Stanley Financials Conference
4:30pm -- API oil inventories