Tech Shareholder Meetings Turn Testy as Backlash Grows
(Bloomberg) -- Usually placid Silicon Valley shareholder meetings have become targets for protesters this year, the latest example of a backlash against the technology industry's growing power.
On Wednesday morning, a plane was due to fly over the annual meeting of Google parent Alphabet Inc. with the sign "SEARCHING FOR ABORTION CARE? GOOGLE LIES." The protest was organized by women's advocacy group UltraViolet that complained about Google Search and Map results when people search for abortion care.
Another group, Silicon Valley Rising, gathered outside the meeting to complain about Google's plans to build a large campus in San Jose, California, about 14 miles south of the company's Mountain View headquarters.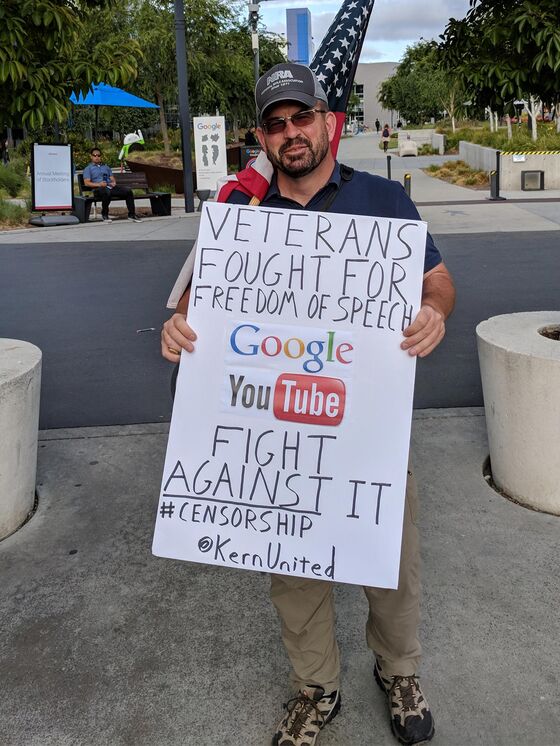 "Hopefully we won't have to remove anyone for violating the rules," Alphabet Chief Legal Officer David Drummond said as the meeting got underway.
Google employees criticized the company's executive pay in a highly unusual move. One investor accused Google of liberal group-think, and another asked the company to do better managing extreme content on its YouTube online video service.
"These companies have become so powerful and their reach is so wide that people are realizing they need to be scrutinized much more," said Jeffrey Buchanan, director of public policy at Working Partnerships USA, which supports working families in Silicon Valley. "They've shown they care about a lot of these issues, so when you protest at these events you actually have a chance of changing things."
The group attended the meeting to protest Google's San Jose development plans and to push the company to provide better working conditions for contract workers.
Just a couple of years ago, tech company annual meetings were sleepy affairs, where the most controversial topic may have been the quality of the free bagels provided. While the companies were successful, they had yet to become so integral to the daily lives of most people. If you needed health care, you picked up the phone -- making Google search results less important. Now the world is watching when Google gives controversial answers. If a politician wanted to reach potential voters, they could go on TV or speak with the local newspaper. Now Facebook is a must for campaigns.
The growth of Google and other tech companies in Silicon Valley has been a boon to the economy. But it's also raised rents and other costs of living, exacerbating homelessness in the area. Some San Jose residents worry Google's new development will lead to more evictions and displacement.
The technology sector has emerged from its Silicon Valley engineering cocoon in recent years to become a global force influencing whole industries, economies and elections. As the wider world wakes up to this, some are questioning the companies' power over the digital information that fuels much of modern life.
Amazon.com Inc. is blamed for retailer bankruptcies, store closings and main-street job losses, while President Donald Trump tweets about antitrust violations by the world's largest e-commerce company. Google has been criticized for spreading misinformation and extremist content, while Facebook Inc. was used by Russians trying to influence the 2016 U.S. presidential election. Both Google and Facebook have been scrutinized for their dominance of digital advertising -- and their control of detailed user data needed to target ads.
Kent Walker, Google's general counsel, said the company is developing housing initiatives that will address various effects from its development in San Jose.
"We want this to be positive for all people involved," Walker said. When pressed, he didn't commit to specific requests from an activist at the meeting, but said that Google is actively engaged with city officials and already has plans to help reduce congestion in the area.
During other recent shareholder meetings, protesters flew planes overhead with banners displaying grievances.
The plane zipping over Facebook's meeting last week pulled a banner that read "YOU BROKE DEMOCRACY" and advertising Freedom From Facebook, a group of privacy and anti-monopoly activists that are pressing the U.S. Federal Trade Commission to break up the company. Some investors brought up long lists of Facebook issues to complain about, including data privacy and taxes, and the company had to kick one woman out of the meeting for repeated interruptions.
The Amazon plane said "#Bezos needs a boss #Union SumOfUs." That was organized by SumOfUs, a group that says it's committed to curbing the growing power of corporations. It submitted a proposal at the shareholder meeting last week to create an independent chairman to stop letting Chief Executive Officer Jeff Bezos "treat Amazon like his personal sandbox."
Bezos said all large institutions, including corporations, should invite scrutiny.
"Don't take it personally, because if you do take it personally you start doing things that are counterproductive," Bezos said. "We have to conduct ourselves in a way that when we are scrutinized, we pass with flying colors."