GoPro, Once Driving Ambarella Shares, Finds Itself Driven
(Bloomberg) -- Investors once looked to GoPro Inc., the action camera and accessory maker, as a key indicator for a variety of its suppliers, including the high definition video semiconductor manufacturer Ambarella Inc. But times have changed.
The San Mateo, California-based GoPro, which achieved a peak valuation close to $12 billion the year it went public in 2014, now has a market capitalization under $1 billion, and was off another 3.4 percent today. The latest slide came on the heels of Ambarella's first quarter results, which contained second-quarter revenue and margin forecasts that disappointed investors.
Ambarella gets 12 percent of its revenue from GoPro as of its latest annual report, the highest percentage among listed GoPro suppliers, and is GoPro's second largest supplier based on cost-of-goods sold, according to data compiled by Bloomberg.
So Ambarella's nearly four-fold rise in market capitalization to $4 billion from mid-2014 through mid-2015 was probably tied to GoPro's IPO and prominence in the active sports sector. Even with Ambarella's meteoric performance over that span, at its peak, it was less than half the size of GoPro at the same time.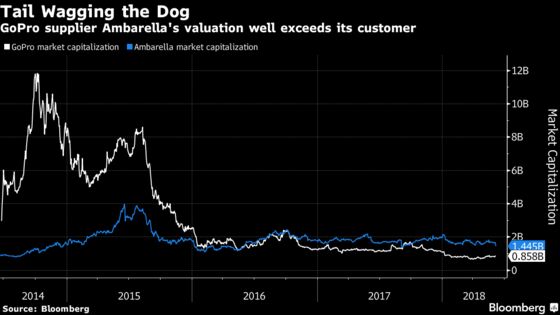 Now, however, GoPro's value sits at just 60 percent of Ambarella's, begging the question of whether GoPro can truly be an indicator for the sector and drive sentiment much more, or whether it's just along for the ride.